Page 2 of 3
PROTECTION I
2018/19. photo series
55,0 x 32,2 cm, fine art print on Hahnemühle paper
This portrait series shows construction workers and street vendors in Bangkok. By wearing protective clothing and masking their faces, these people working under harsh conditions protect themselves from injury, strong sun, dust and air pollution. In doing so, they often create fascinating combinations of colors and patterns.
Production Assistant: Varinth Sukpong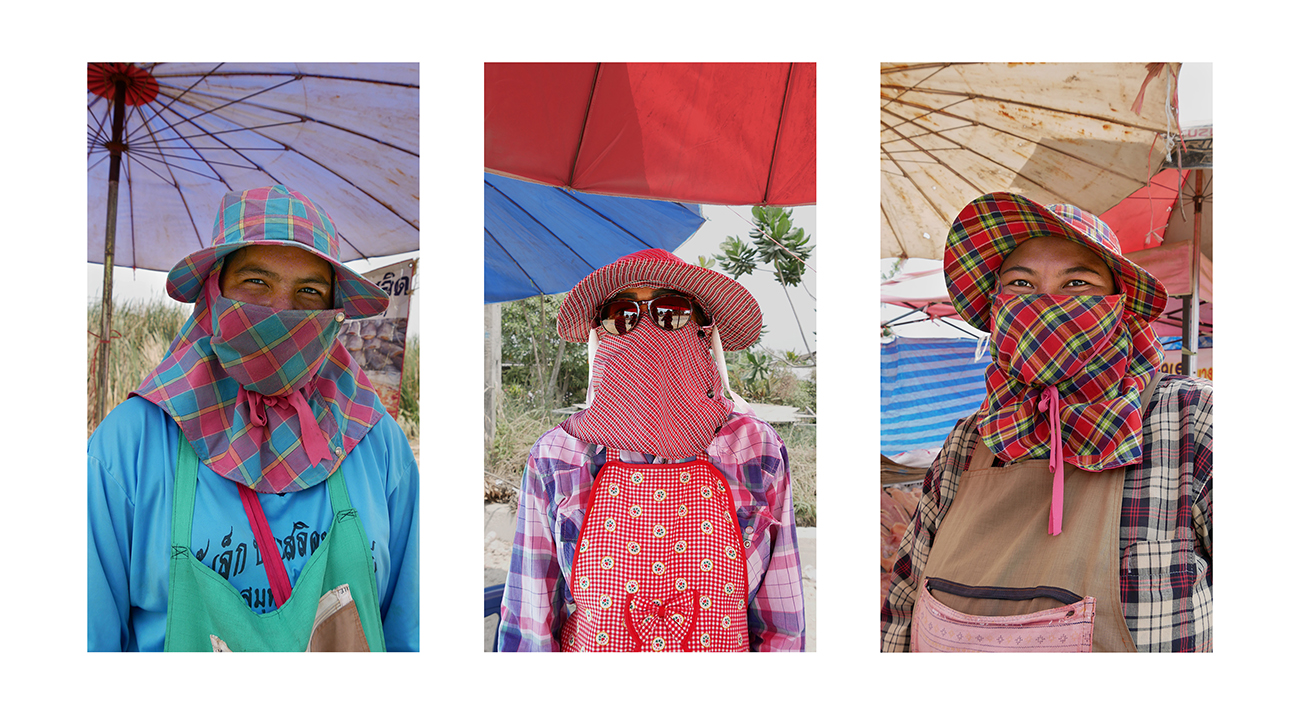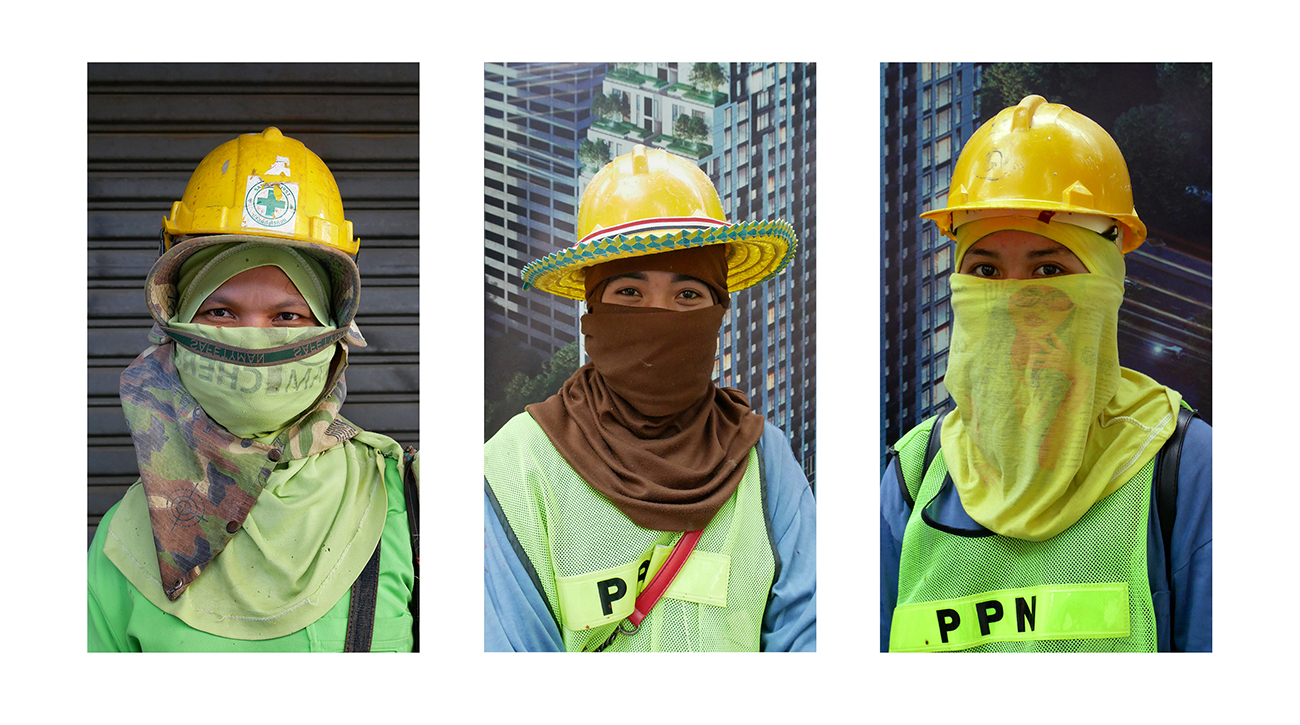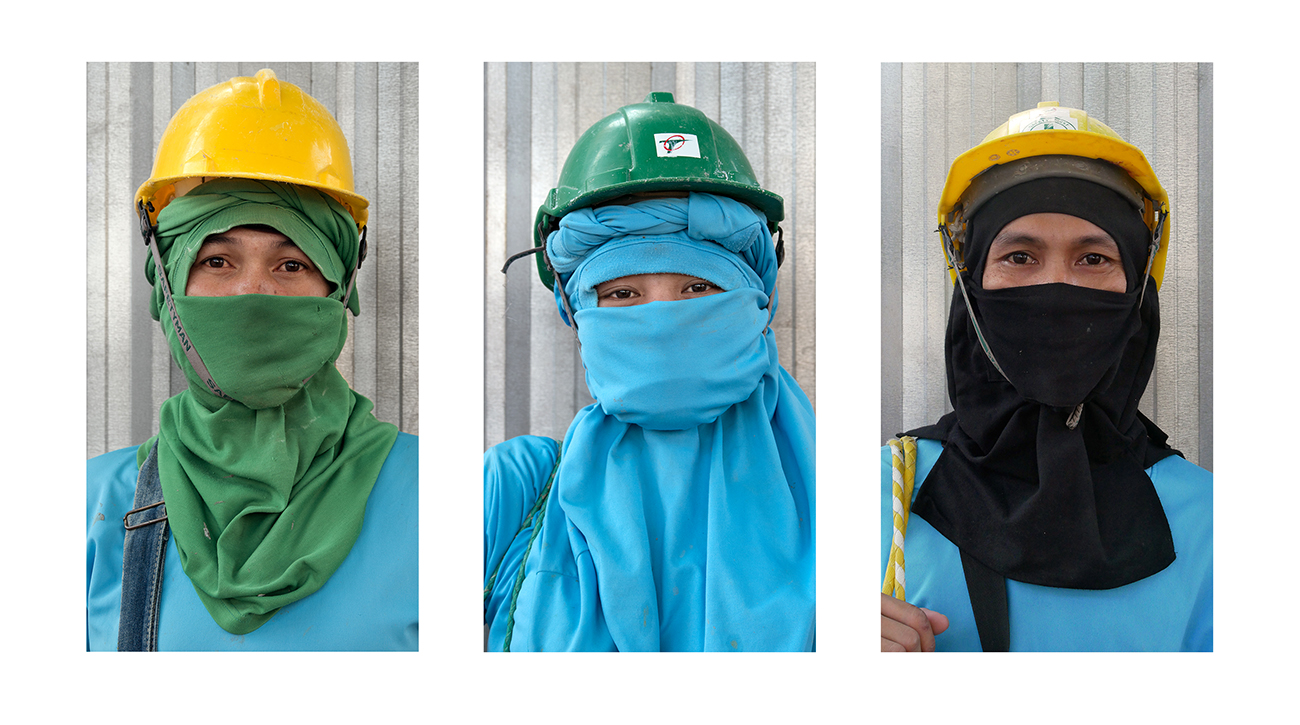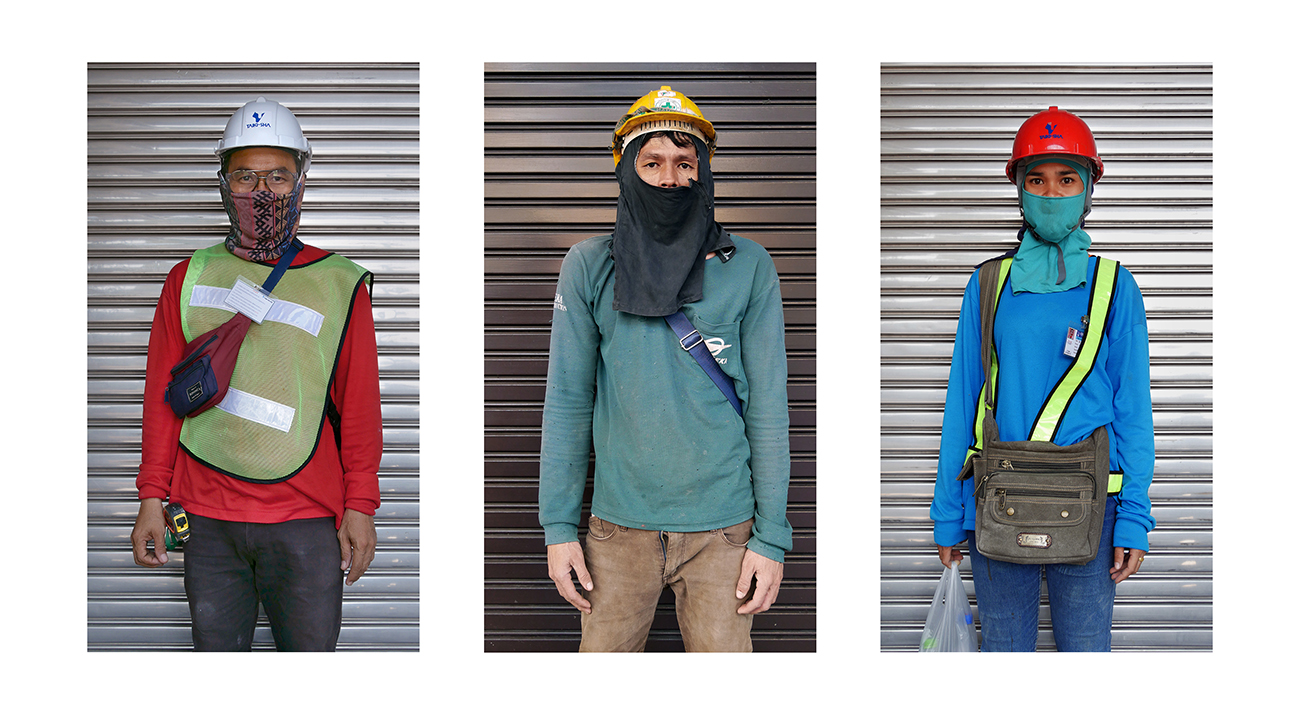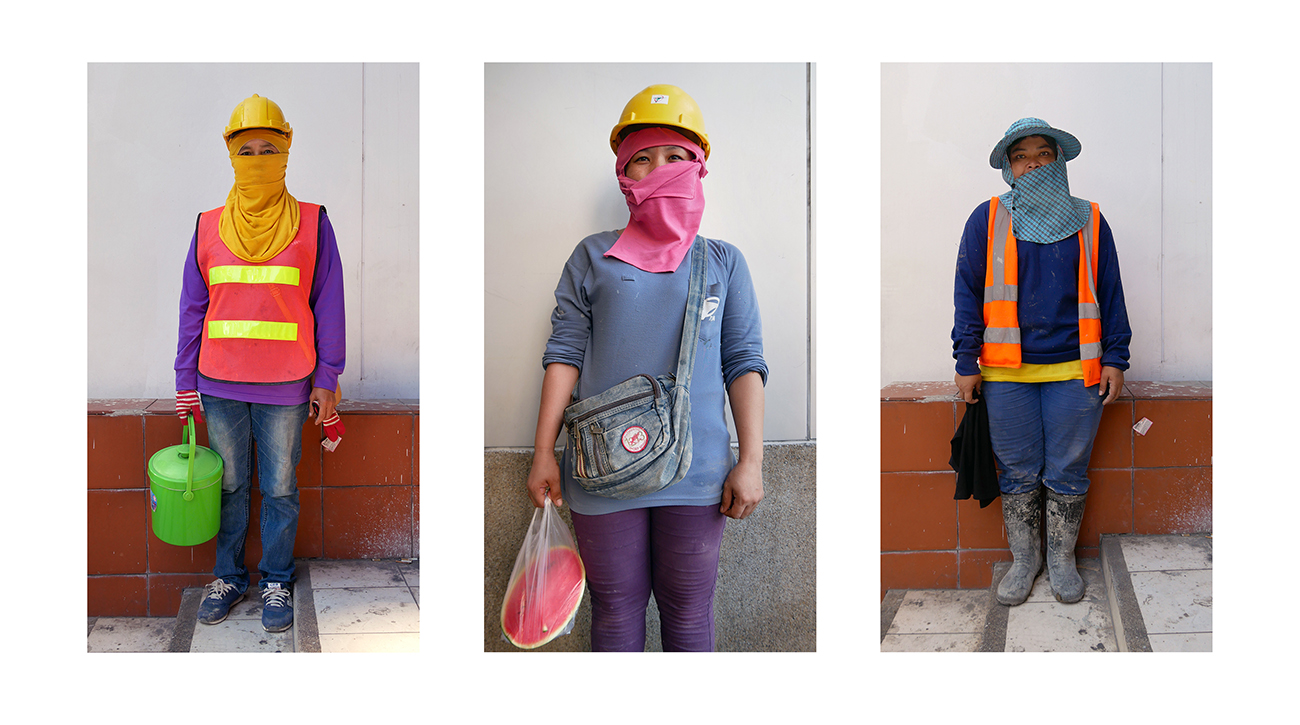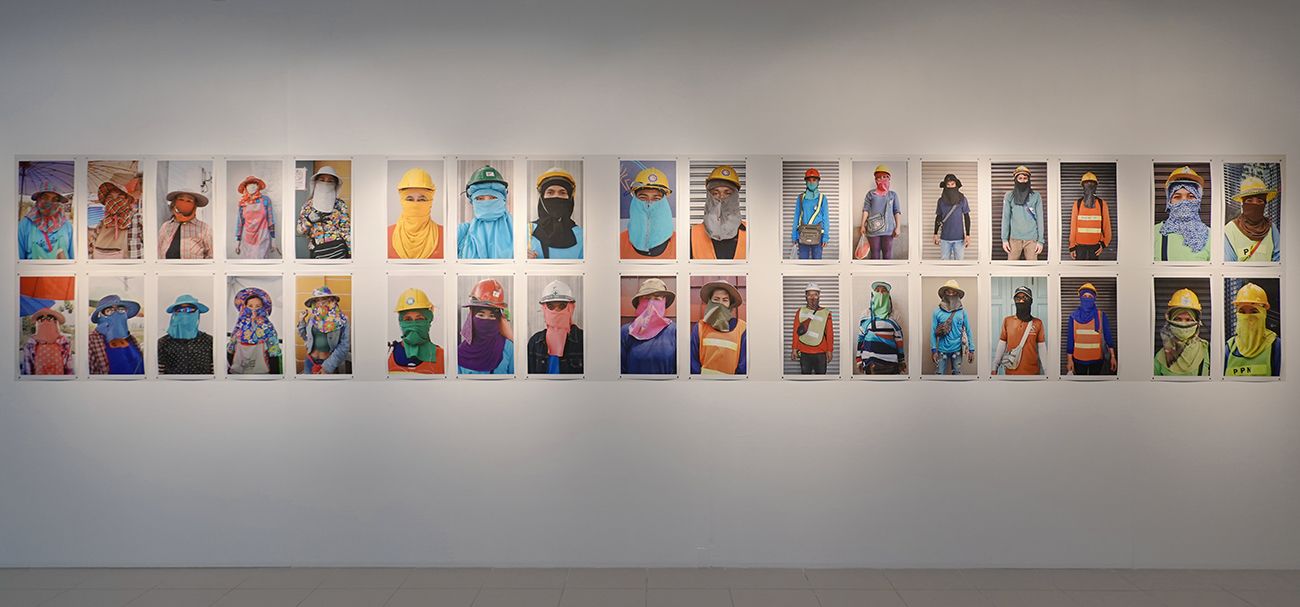 Exhibition Goethe Institut Brasil - 2018
Protection II
2020, Photo series
55,0 x 32,2 cm, fine art print on Hahnemühle paper
The portrait series was taken from 04 to 08 March 2020 on the Pitztal Glacier in the Austrian Tyrol. The skiers and snowboarders in their mostly brightly colored clothing protect themselves with helmets, goggles, scarves and masks from injuries and sun, from cold, wind and snow. Their fashionable-futuristic look moves between individual design and conformity and features interesting variations.
The Covid 19 pandemic seemed far at the beginning of March 2020, although it was already raging very close in Italy. A few days later, the lockdown also took place in Austria and Germany. Now we wear masks to protect ourselves from viral infection.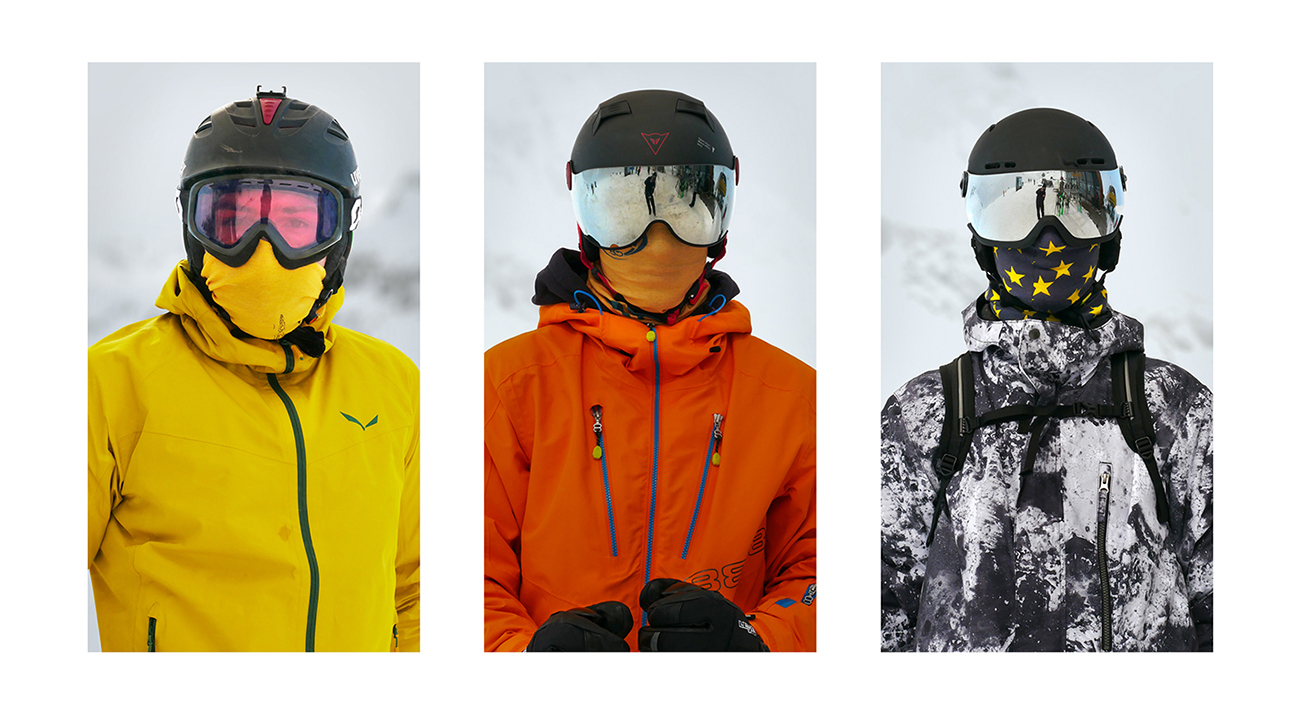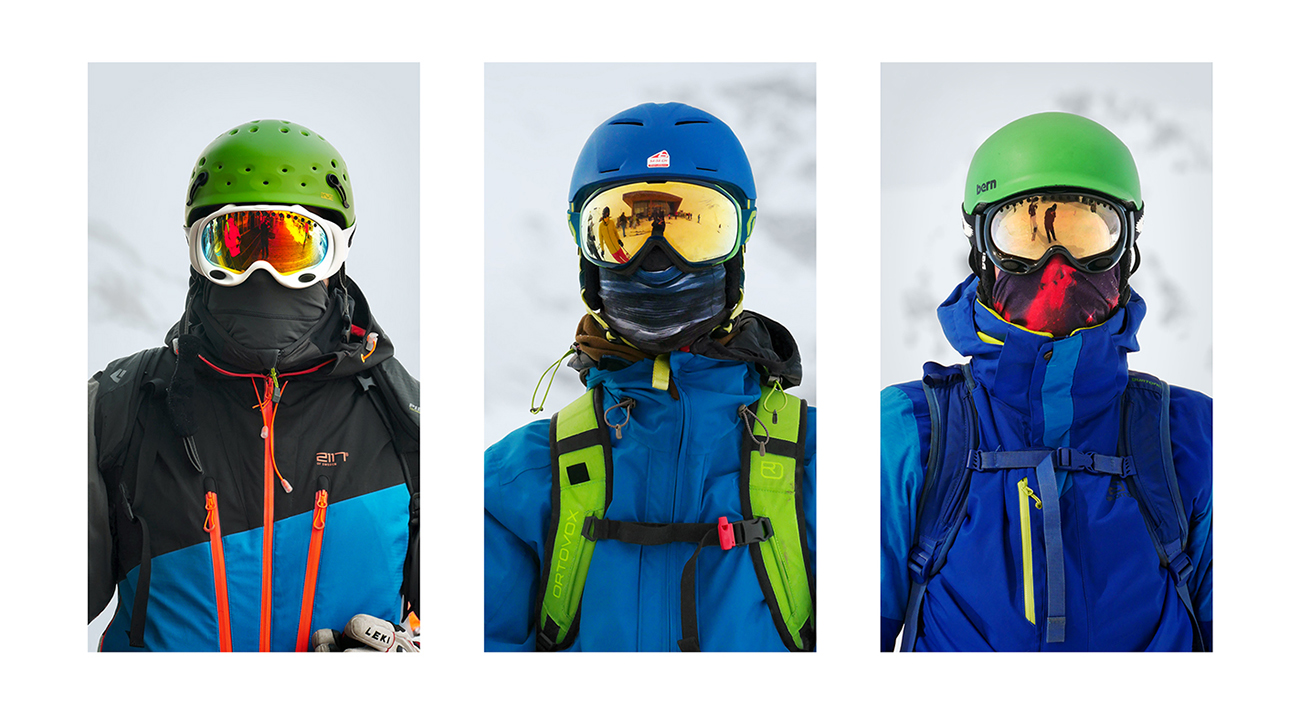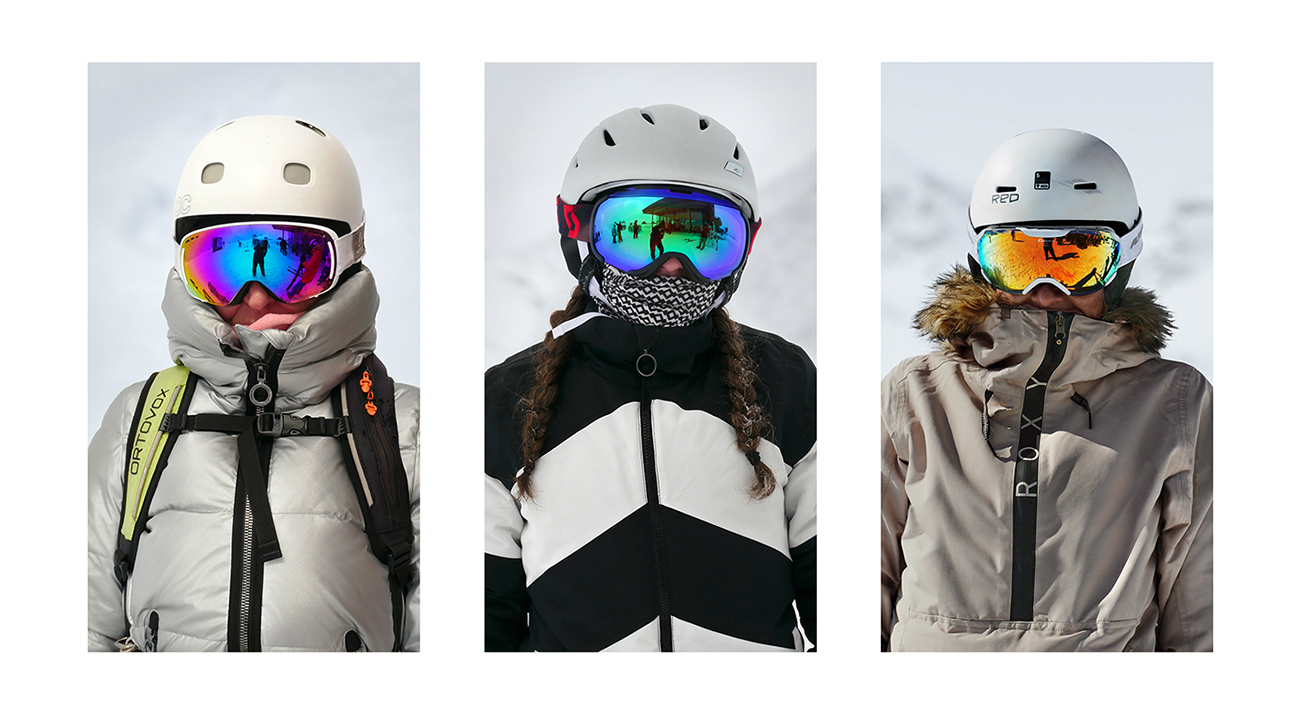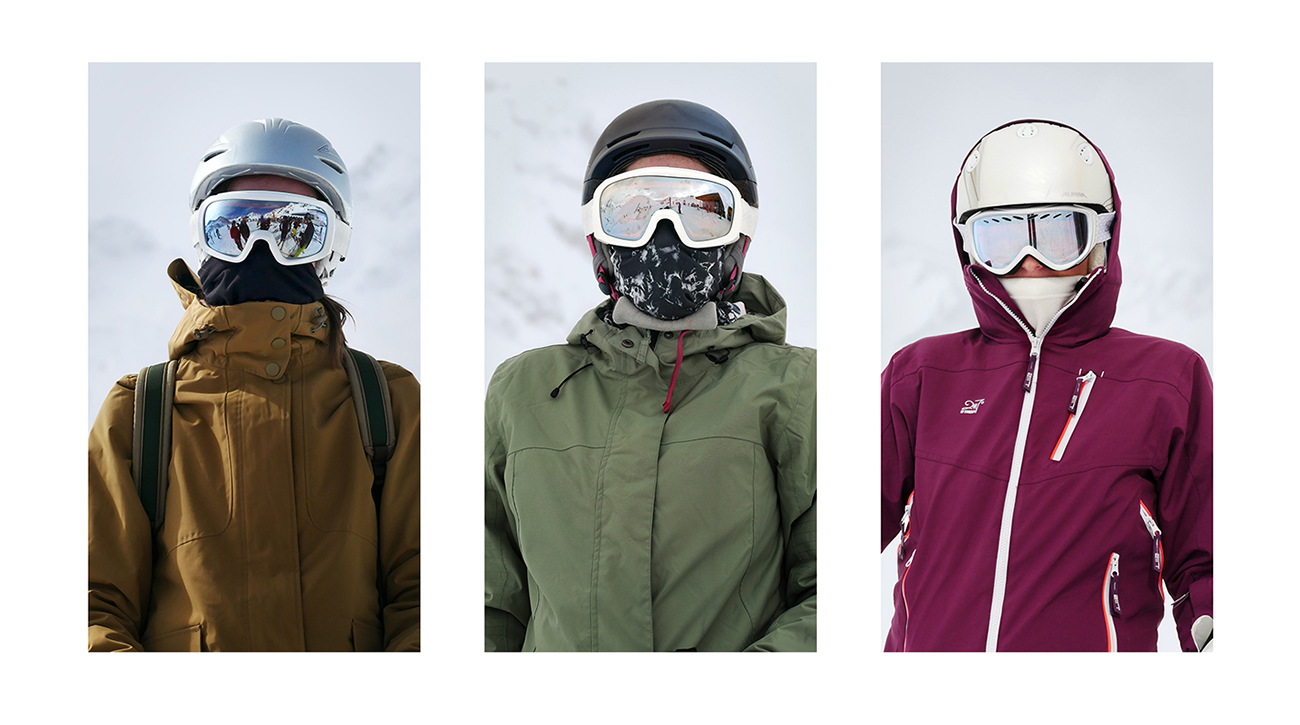 THE CLIENT
2
018, 11:02 min, 360° video (work in progress).
Prostitutes flirt with you, the potential client. They gather around the 360° camera (or you) and offer their services and try to seduce you. They amuse themselves with you and their laughter becomes shriller and shriller.
360-degree videos make the viewer* physically immerse in another world. Normally the panorama promises a wide and free view, but in my work "The Client" (2018) I want to put the viewer in a claustrophobic situation. Observed and approached by intrusive women, we seem to be trapped in the center and at their mercy. We can only turn around our own axis.
The video was shot in Bangkok with prostitutes and their pimps.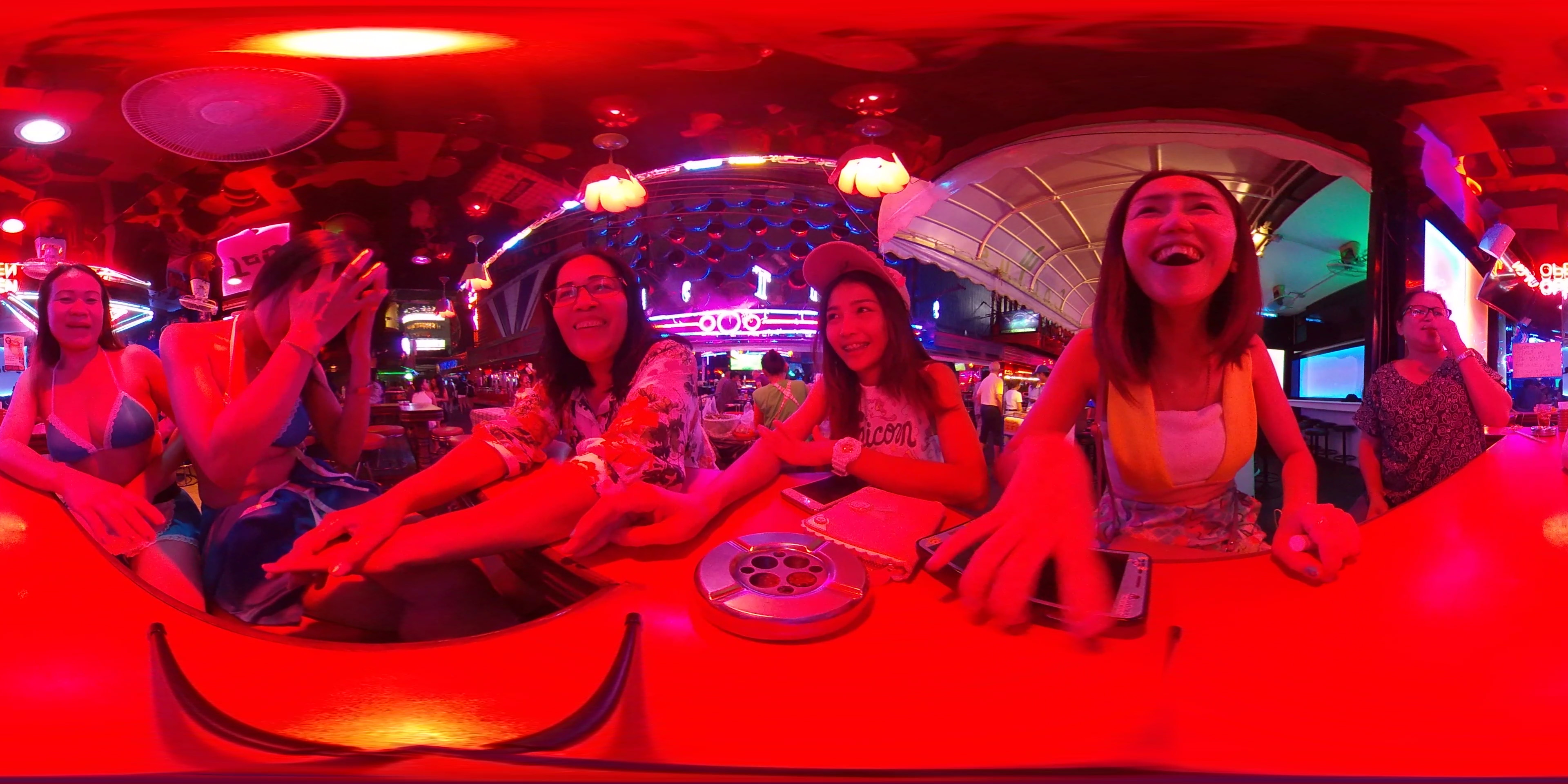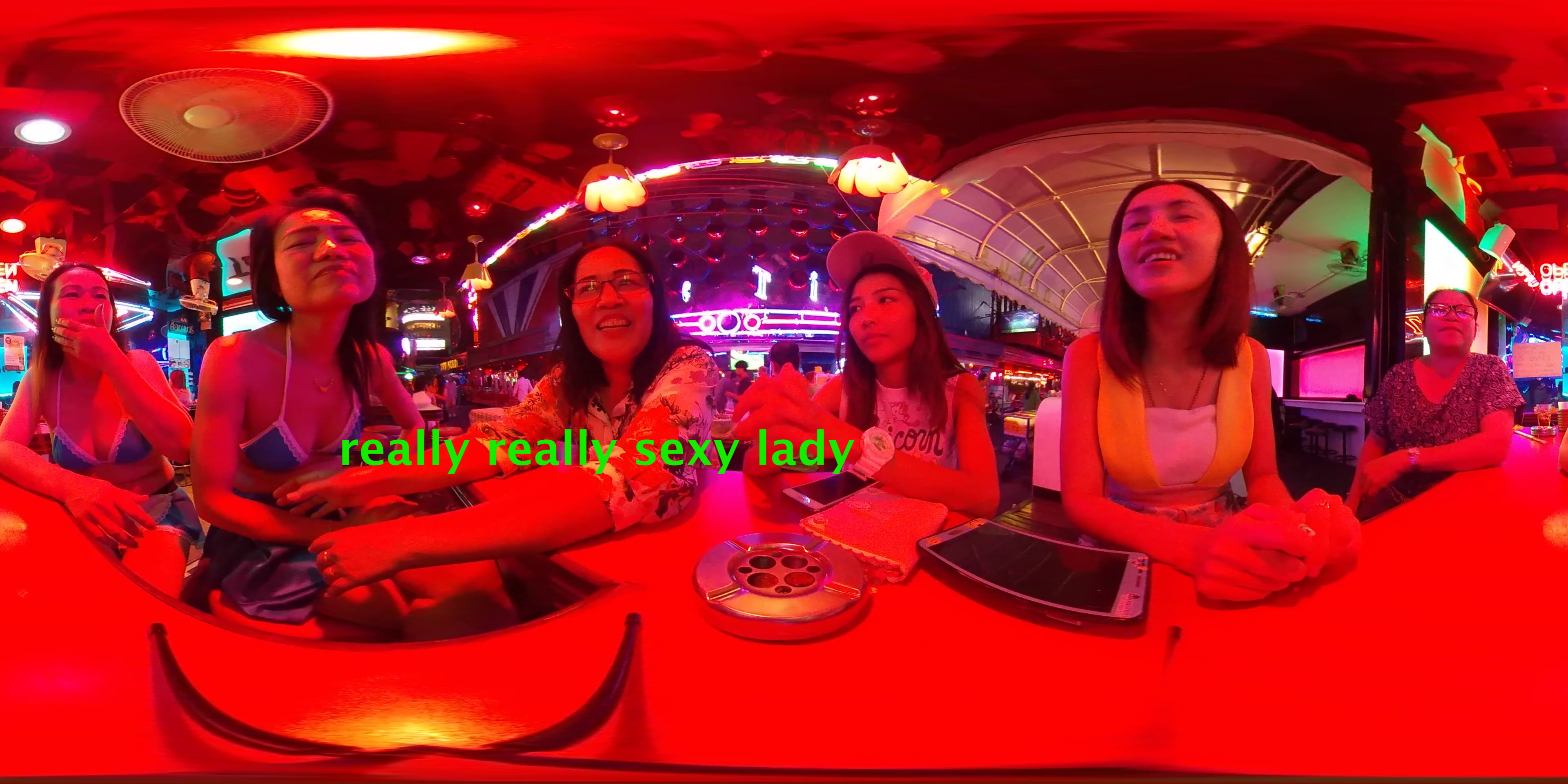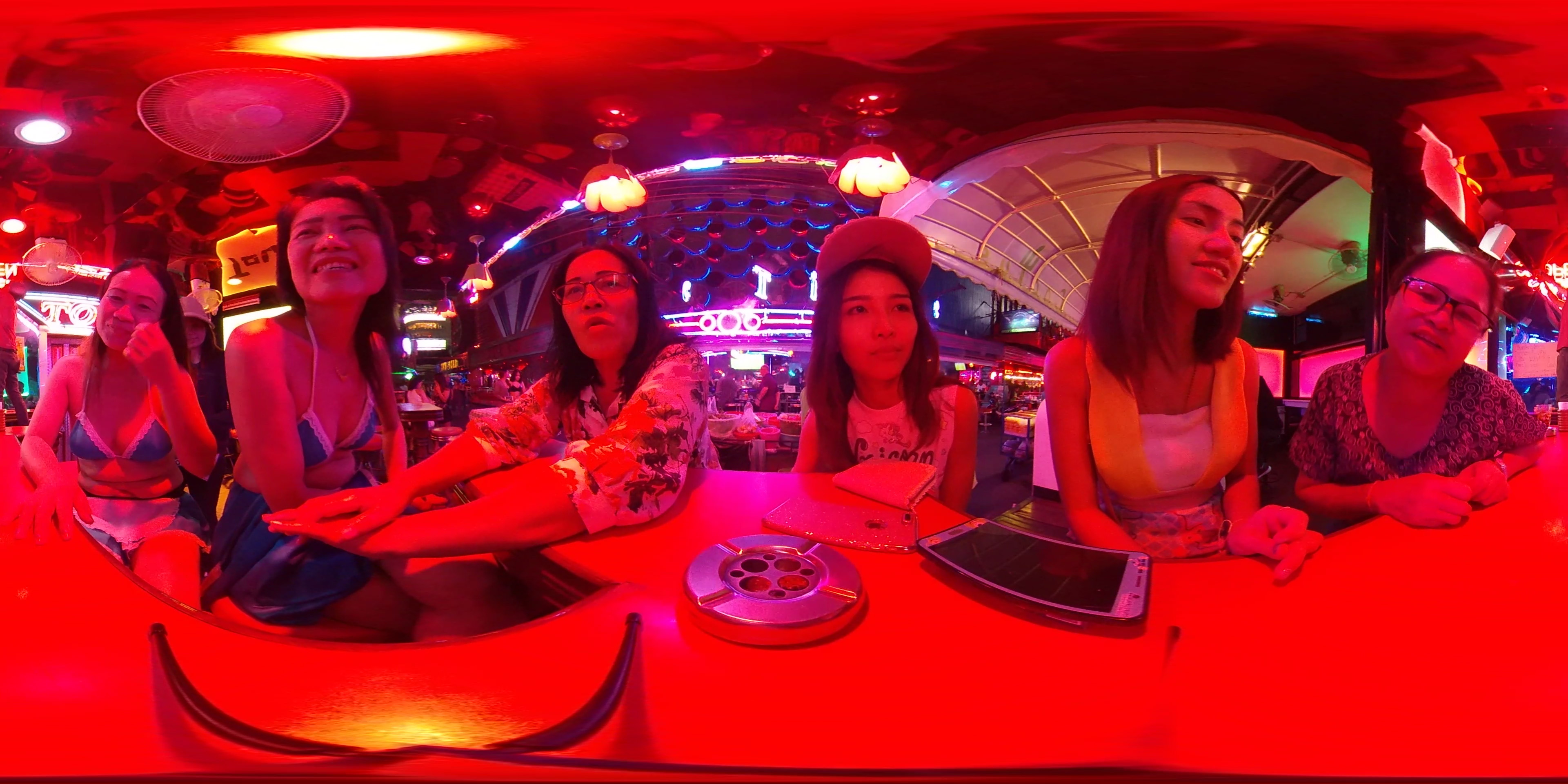 MONDKALB

2012, 13:28 min, Full HD video for a flat screen monitor or projection.

 

The white bedspread becomes a restlessly moving creature. The artist is hidden and trapped inside it.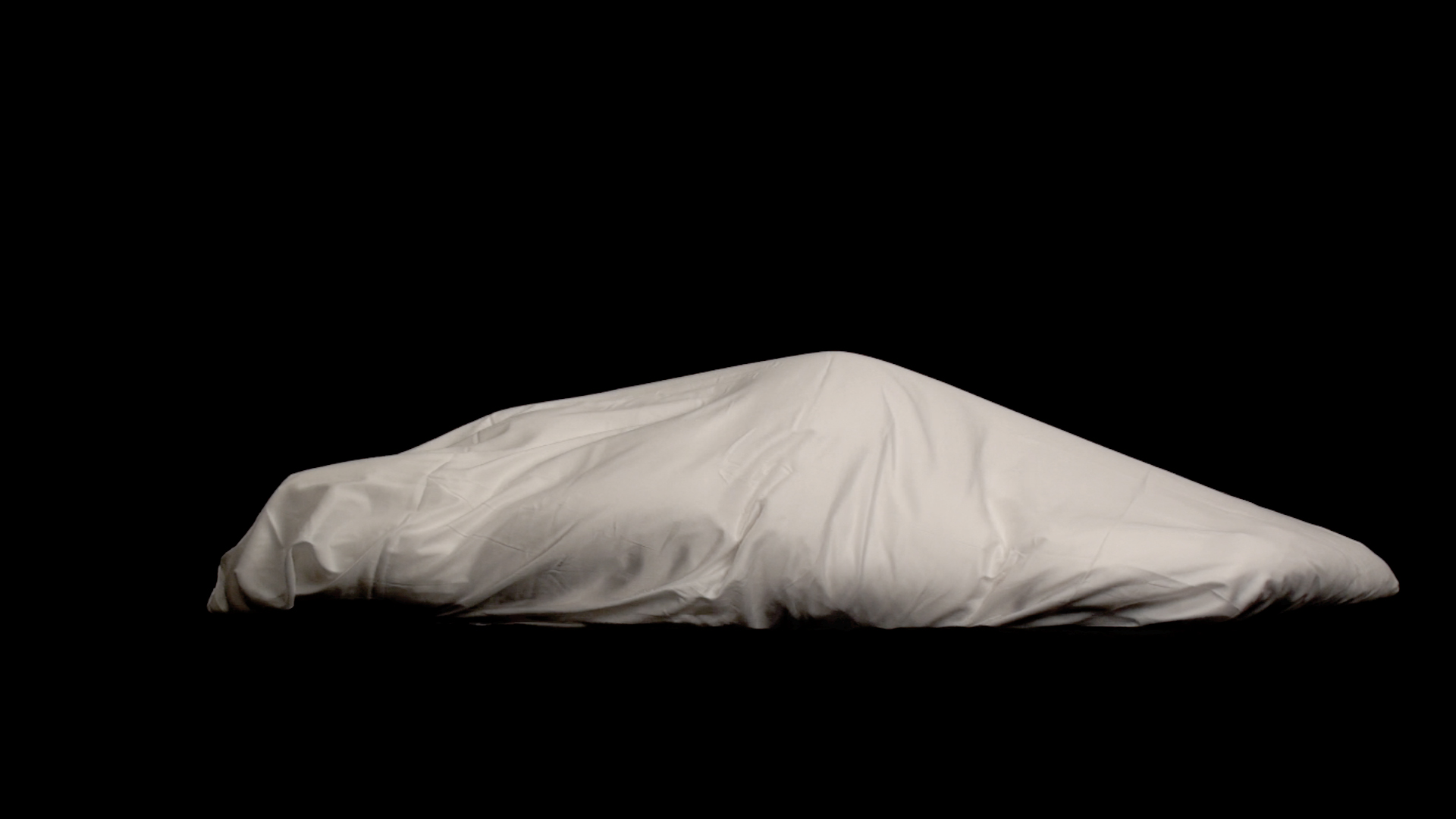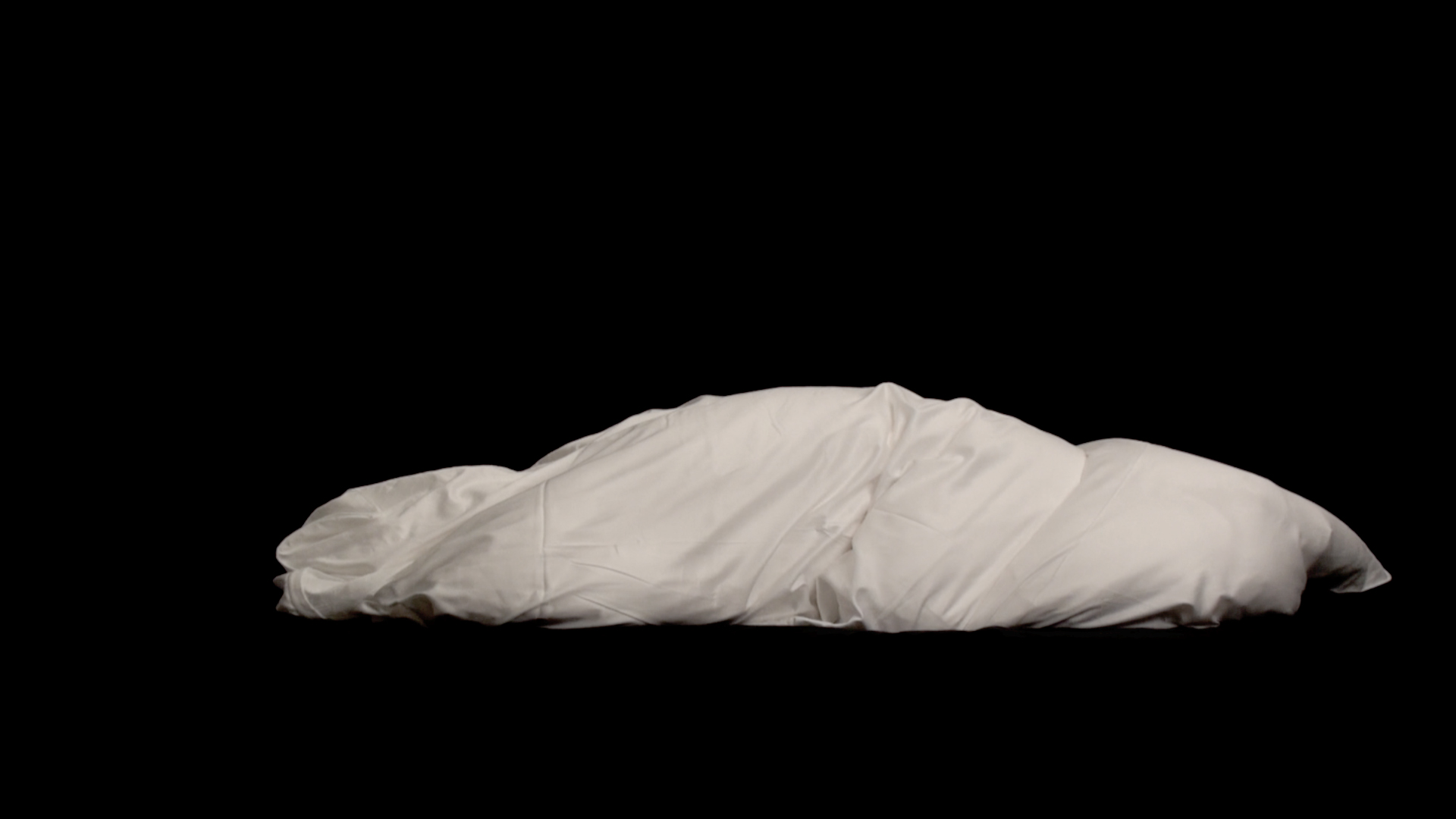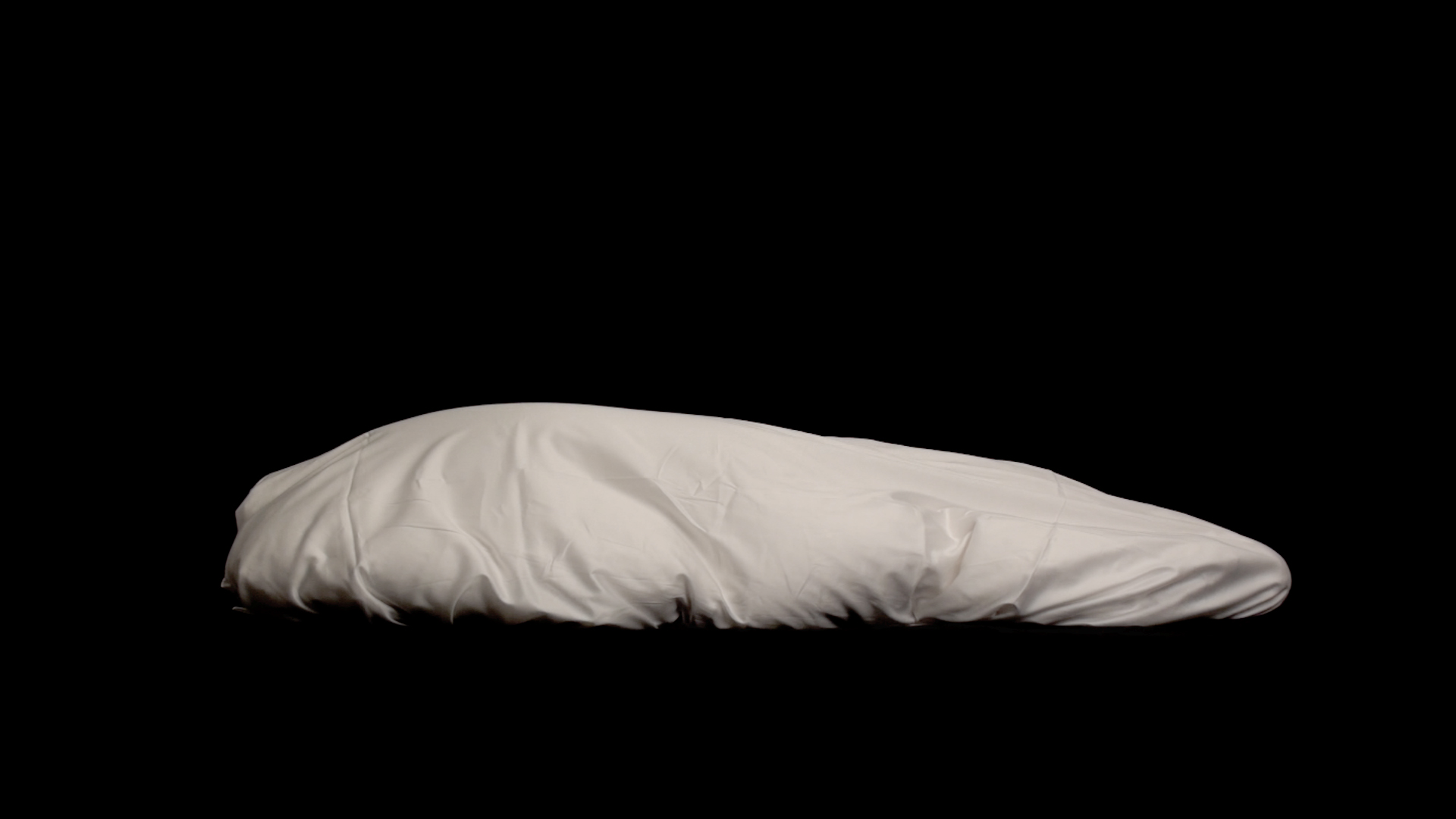 AM STRAND
2012, 12:15 min, HD Video
Like actors on a stage, people in their (bathing) costumes act here on the Baltic Sea beach accompanied by heavy thunder and a dramatic change of light. This scenery appears almost artificial, as if it were a studio backdrop, illuminated by large spotlights. A squawking radio barely audibly plays a live report on the racist attacks on the Central Reception Center for Asylum Seekers and a hostel for Vietnamese contract workers in Rostock-Lichtenhagen. At the end, Richard Wagner's "Tannhäuser" is heard. A happy ending?
Sound mixing: Christian Obermaier
Postproduction: Franziska Röhlig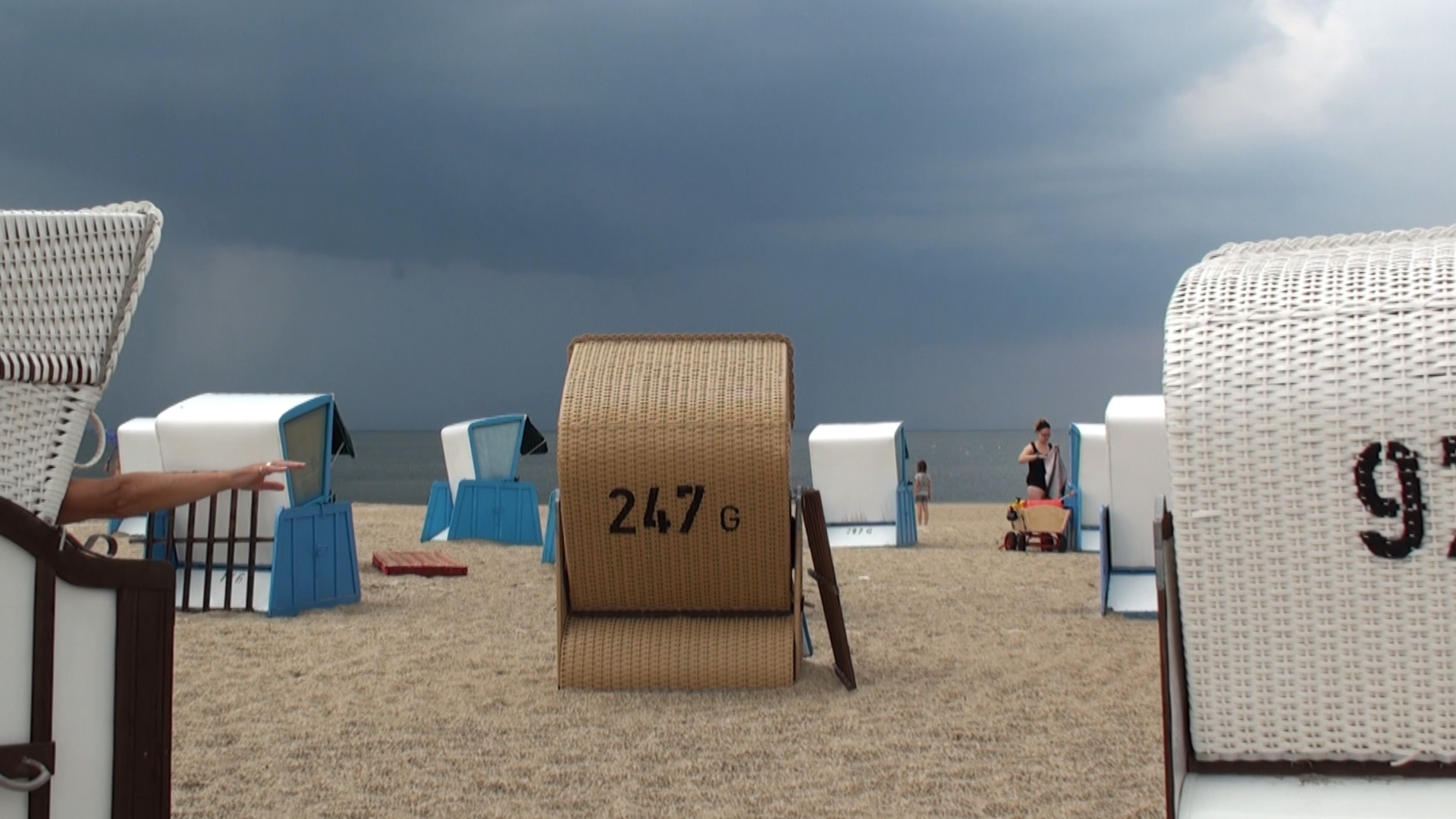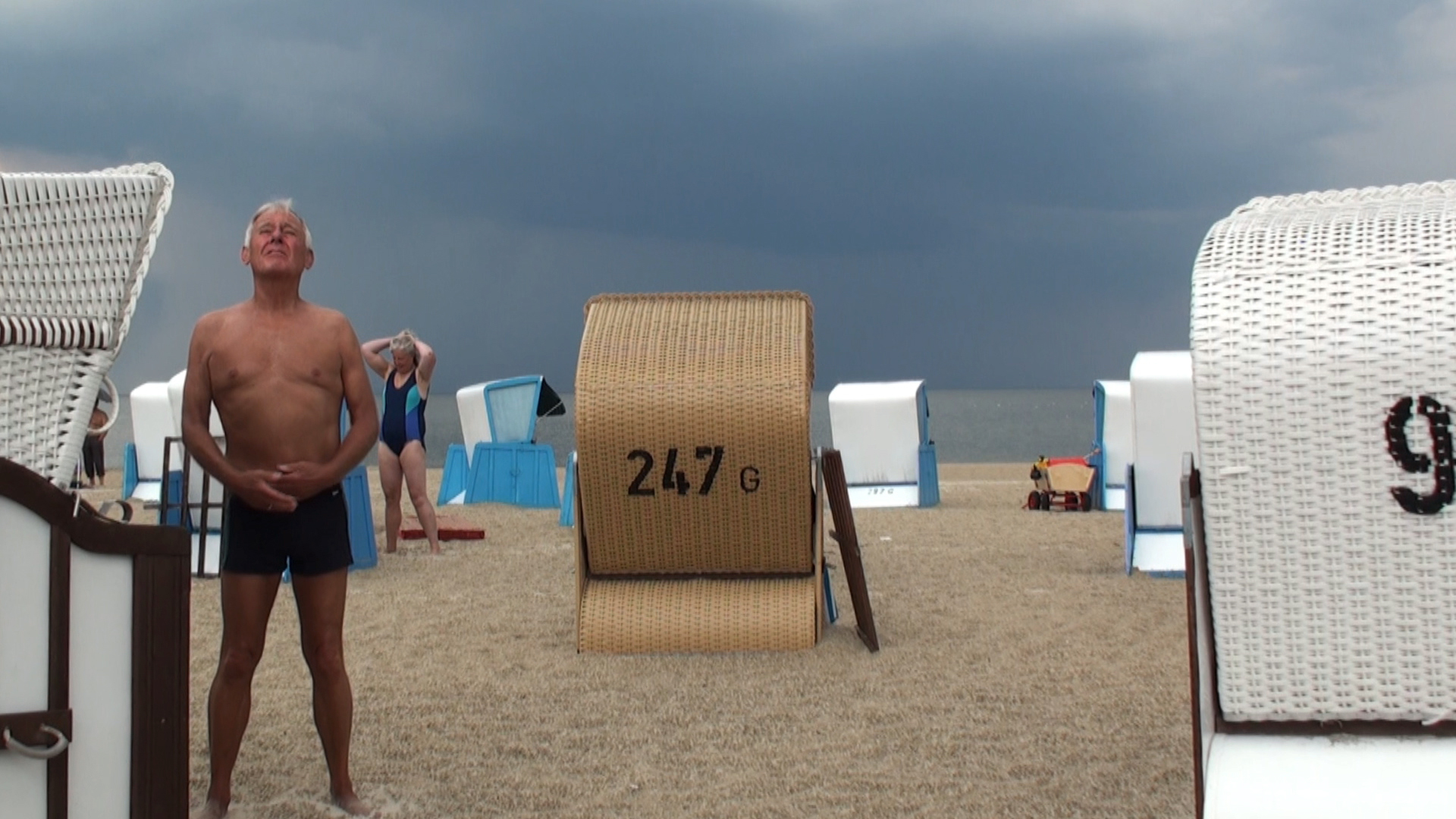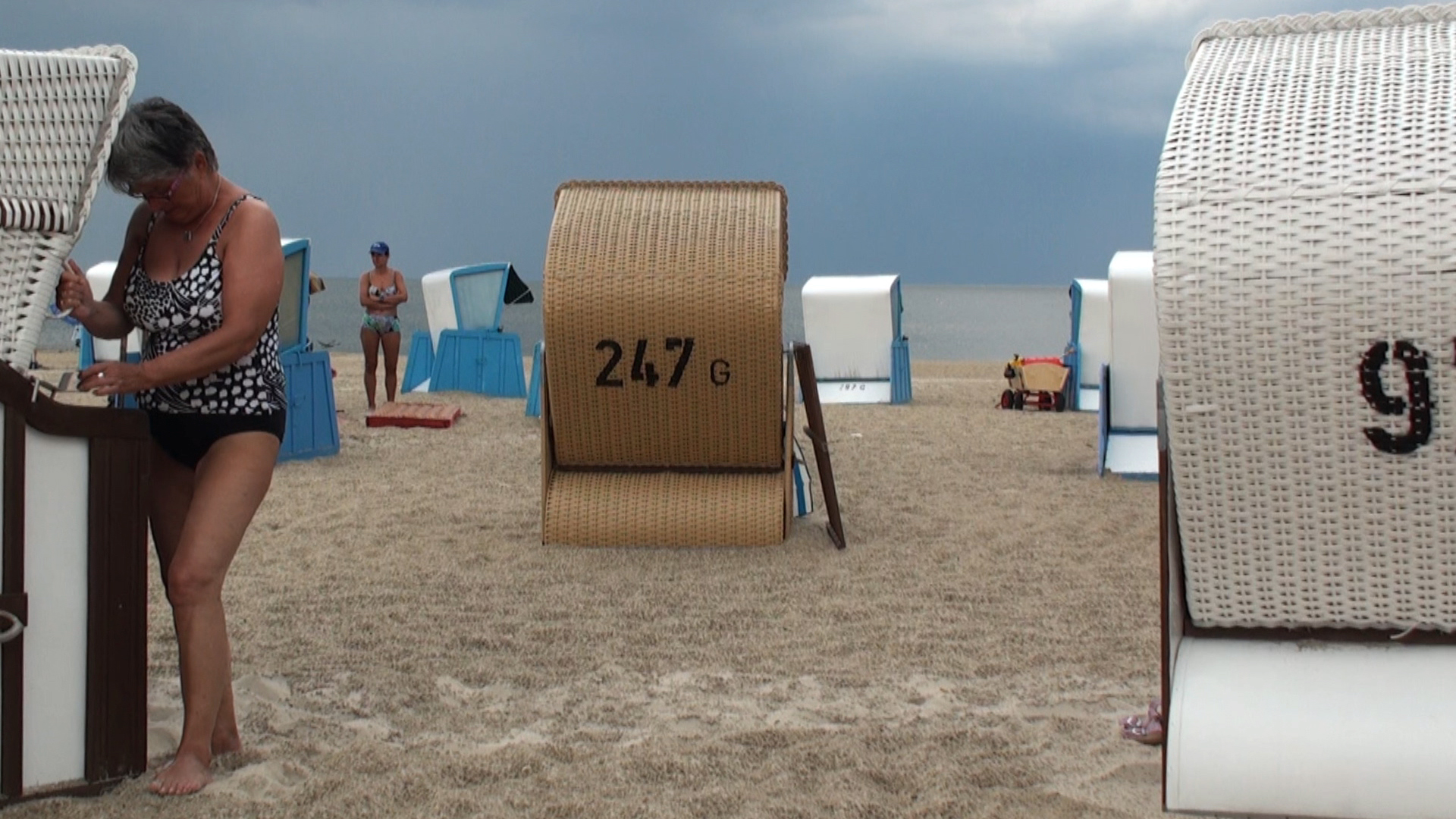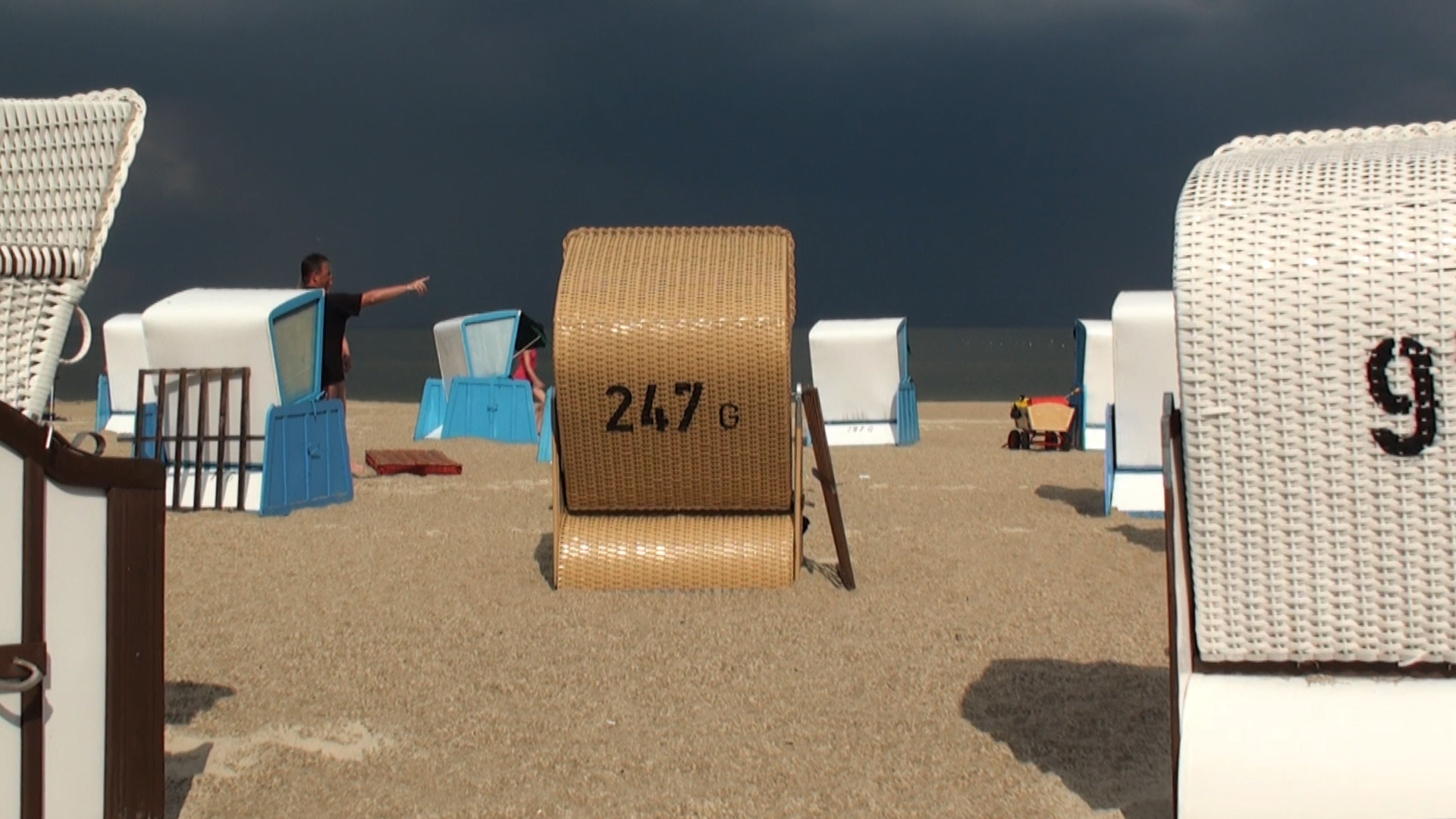 INTRUDERS
2016, 12:01 min, Full HD video for a flatscreen monitor or a room-based projection.
A group of young people tirelessly tries to get into the (video) frame from all sides. The "intruders" look expectantly towards us, but have to take cover again and again and are driven away. They don't manage to cross the borders....
Actors: Ana Jelusic, Anna Maysuk, Annika Haas, André Hörmeyer, Büke Schwarz, Catalina Gómez Alvarez, Claudia Damm, David Pollmann, Elena Gómez Alvarez, Elisa Gómez Alvarez, Enrico Ticconi, Fatemeh Irandoost, Fergus Johnson, Franziska Seehausen, Hans Kannewitz, Jonas Alsleben, Jonas Reigardt, Juan Harcha, Justus Heitzelmann, Liang Zhipeng, Malte Weber, Michael Bertuleit, Nico Henke, Paul Riemann, Silke Schwarz, Theresia Kimmel, Timo Kreitz.
Camera: Thomas Kutschker, assistance: Elisa Gómez Alvarez / Büke Schwarz,
Postproduction: Franziska Röhlig, Sound Design: Christian Obermaier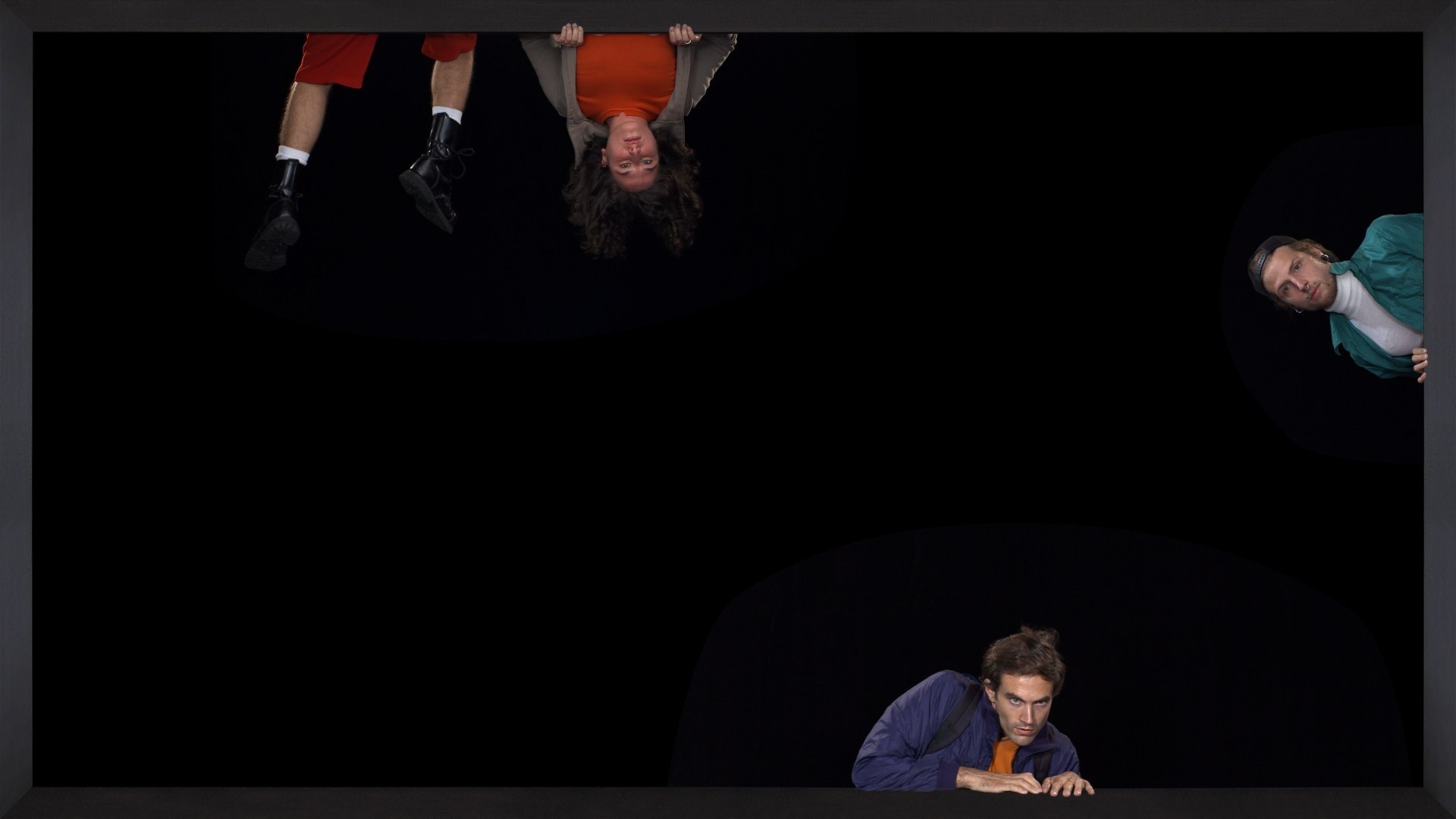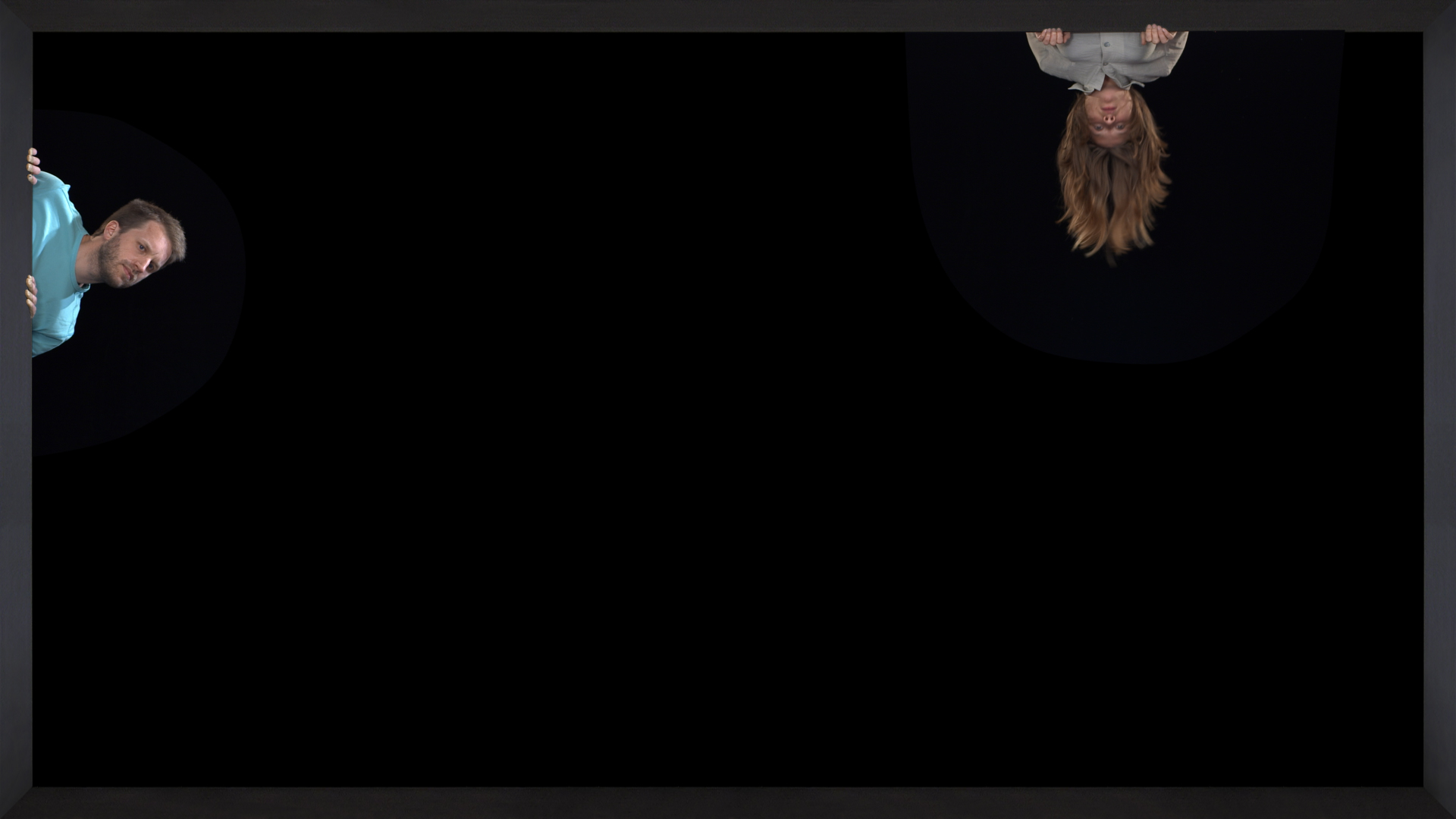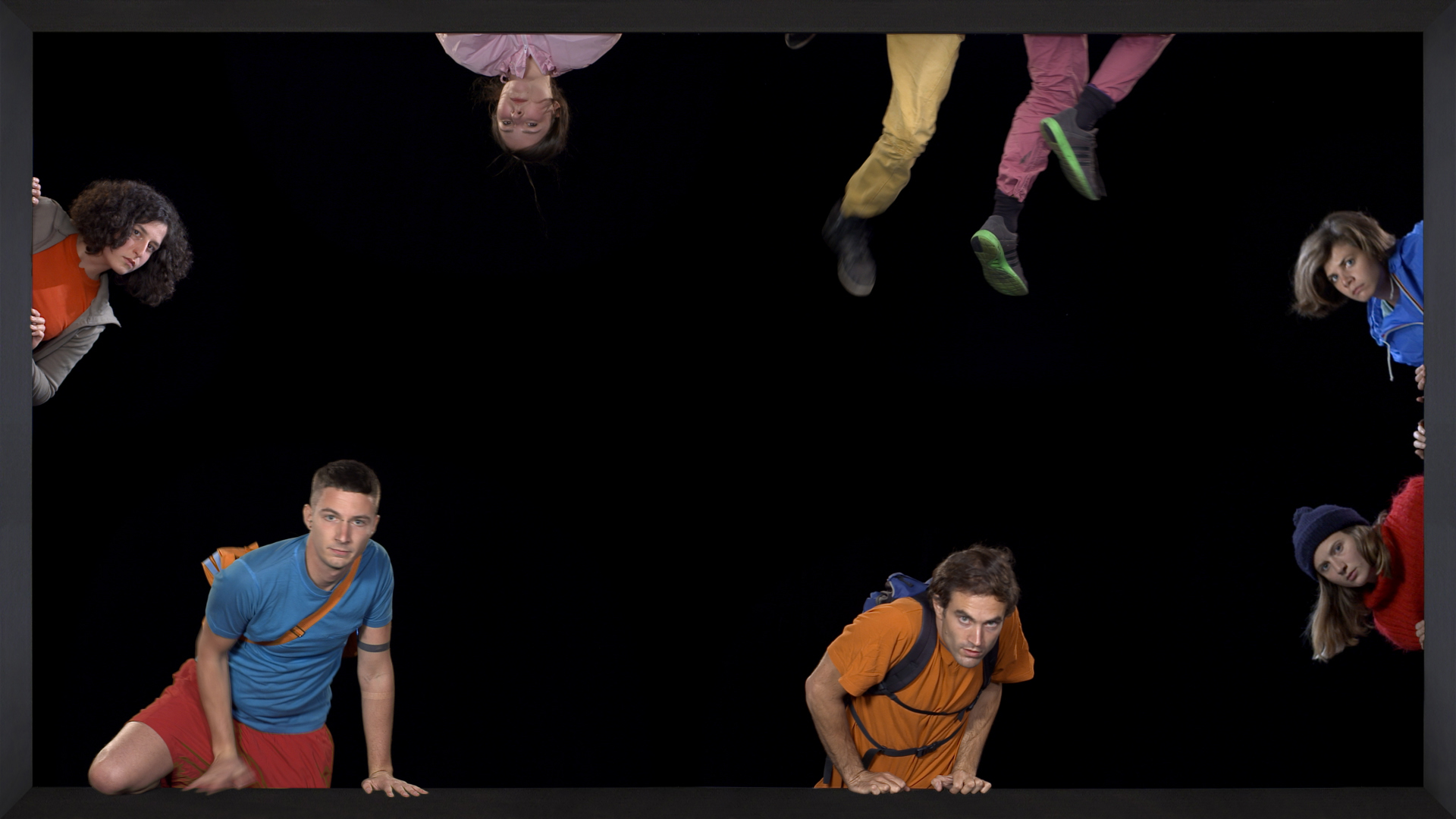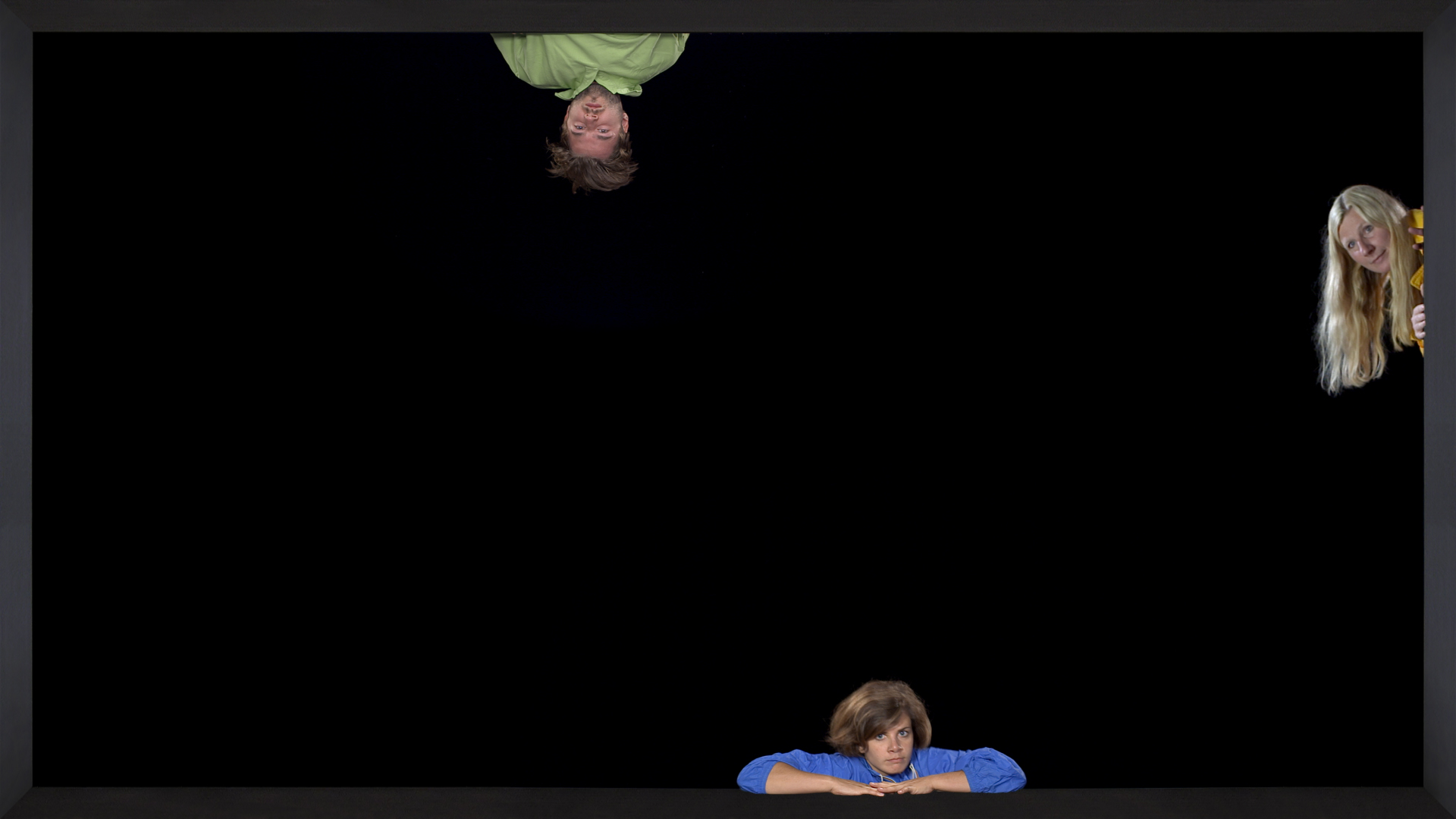 SOUS-MARINS / SUBMARINES
2015, 10:27 min, Full HD video for a large video projection or a flat screen monitor.
Out of the black of the video image appear the heads of divers, equipped with different snorkels, goggles and caps. They observe us and disappear again underground.
The behavior described in the off-camera commentary makes the divers seem like strange creatures, aggressive and voracious, camouflaging and defending themselves, mating and dying. The French term "sous-marin" means not only "underwater," but also submarine, mole, and colloquially agent and spy....
The off-text was inspired by underwater films, such as "Les amours de la pieuvre" , 1965 and "Histoires de crevettes", 1964 by Jean Painlevé (1902-1989). The behavior of octopuses, giant squids, jellyfish, seahorses, dolphins, manatees and other sea creatures is described. The soundtrack by Tobias Purfürst is based on electronic music of the 60s.
The video work can be shown on a flatscreen monitor or in a cinema-like context, or as a site-specific projection in which the oversized heads emerge not from the center of the image but from the bottom edge of a wall or window, giving the impression that the heads are emerging directly from a pool of water.
Performers: Sabine Dohnke, Antje Göthling, Justus Göthling, Frauke Hönsch-Kaczmarek, Ingo Kaczmarek, Thorsten Klettke, Angela Nenov, Louisa Rusch, Thomas Schaal, Günter Schlabitz
Location: Tauchzentrale Berlin-Kreuzberg
Director: Anna Anders
Camera: Thomas Kutschker
Assistance: Franziska Röhlig
Sound recording: Christoph Baumgarten
Editing: Anna Anders
Color correction: Till Beckmann
Narrator: Francois Rossier, Ben Posener