Bruch | Stücke


With Bruch|Stücke II ART CLAIMS IMPULSE places a focus on Live Performances. In Contrast to the first edition the second edition shows performance that are carried out live or were recorded and documented during their presentation. While the first edition presented choreography based video art work, this time ACI shows artwork that interacts with its surroundings, incorporates them and therefore contextualises it.





06.Januar 2015, im Theater im Palais

Starting: 8pm, 20:00 Uhr

www.theater-im-palais.de


Marc Aschenbrenner:
"Shopping"
2013, 7.14 min
Kamera: Knut Klaßen


Wolfgang Spahn:
"Entropie"
Live Performance


Jordan McKenzie:
"Interior DIE"
from the series "minimal interventions"
Recorded Performance
2003, 12 min
"At Arm's Length"
from the series "minimal interventions"
Recorded Performance
2006, 12.17 min
Infinite Livez
Live Performance
+ Illustrations

----

Bruch | Stücke places media art in direct relation to the discursive nature of the theatre without functioning as a supplement of the theatre production.

*Bruch | Stücke is a new series created by ACI | Art Claims Impulse, that we place outside the usual gallery context. We show Media Art, Performance and Installation.
ACI
Bruch | Stücke

On September the 18th ACI | Art Claims Impulse starts a new art experience, a new form of art presentation.
We take the media art in a discursive area. An area that was ever filled with drama, debates and provocation.
Into the theatre.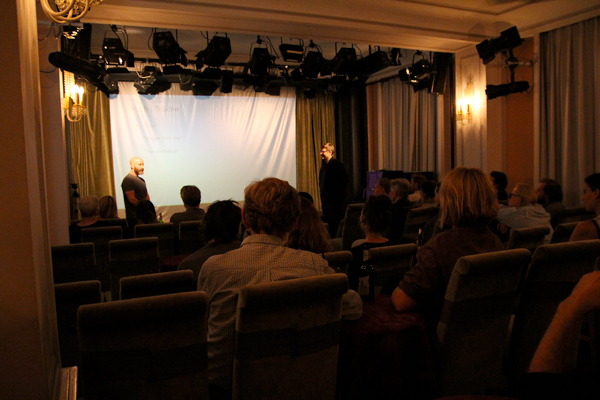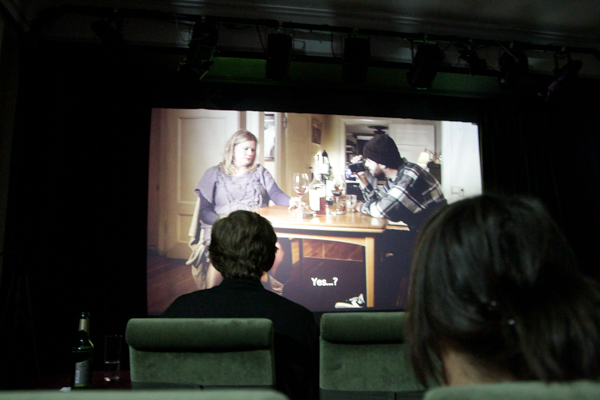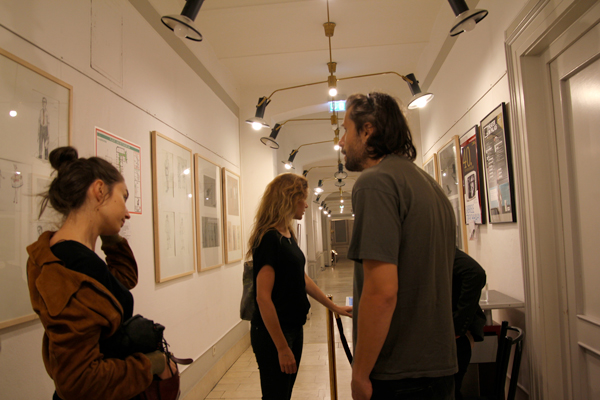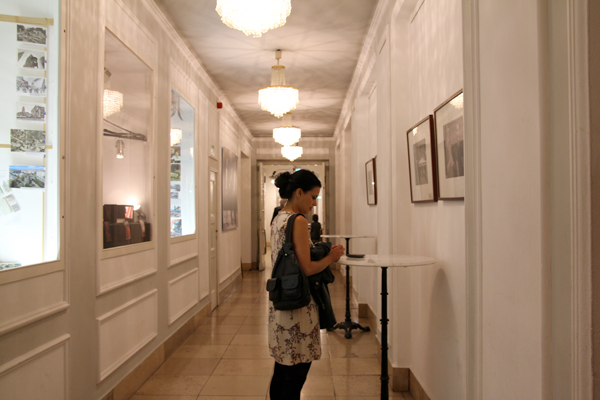 There have been theatre projects for some time that interweave the boundaries of fine arts with theatre. Interweaving video art and sound art with classical theatre has been very well accepted when it comes to contemporary theatre productions, although video art and sound art was rather used as a supplement for the theatre production.
Bruch | Stücke places media art in direct relation to the discursive nature of the theatre without functioning as a supplement of the theatre production.

*Bruch | Stücke is a new series created by ACI | Art Claims Impulse, that we place outside the usual gallery context. We show Media Art, Performance and Installation.
ACI
BRUCH | STÜCKE

18.September 2014, im Theater im Palais
www.theater-im-palais.de


Per Teljer: "TESS"

2014, 26 min

Schauspiel: Josef Harringer, Hanna Ullerstam
Regie: Per Teljer


Jannicke Laker: "Boggie With You"
2014, 12 min


Mattias Härenstam: "Rekonstruktion"
Regie: Mattias Härenstam
2013, 21 min
Dazzling & Haunted
… the tenor and undercurrents in the art works could be described as reflecting a relentless quest, a haunt for perfection, for splendor, for recognition, for a vague promise for redemption… attrition is accepted as it is fuelled by the kind of humor and hope that defeats futility… the genuineness and intrinsic purity of the protagonists and situations cast a dazzling light on them, without moving them too close to pathos or profanity…
… dazzling & haunted expresses a condition, characteristics of human existence… the artists succeed in addressing them in an intriguing manner, providing a platform for the audience to reflect and self-reflect…


Artists:


Mario Asef, Eberhard Bosslet, Nia Burks, Sérgio Cruz, Flatform, Michelle Handelman, Silvia Lorenz, Jörg Piringer, Tom Schmelzer, Anna-Maria Sommer, Maria Vedder.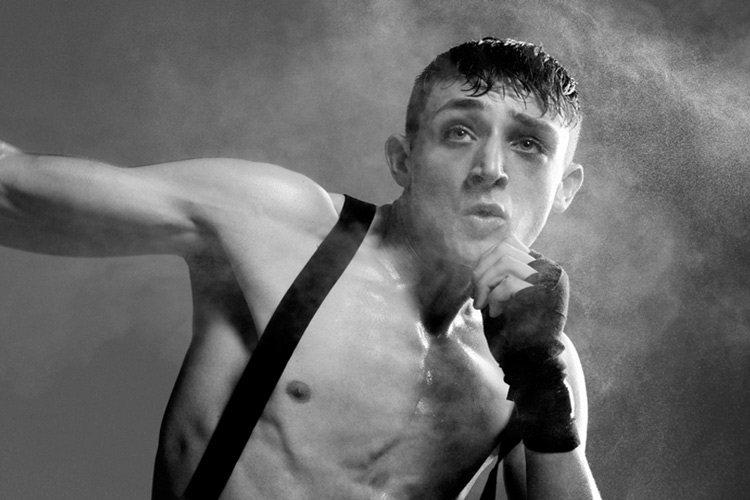 Sergio Cruz, H2O, Video, 2012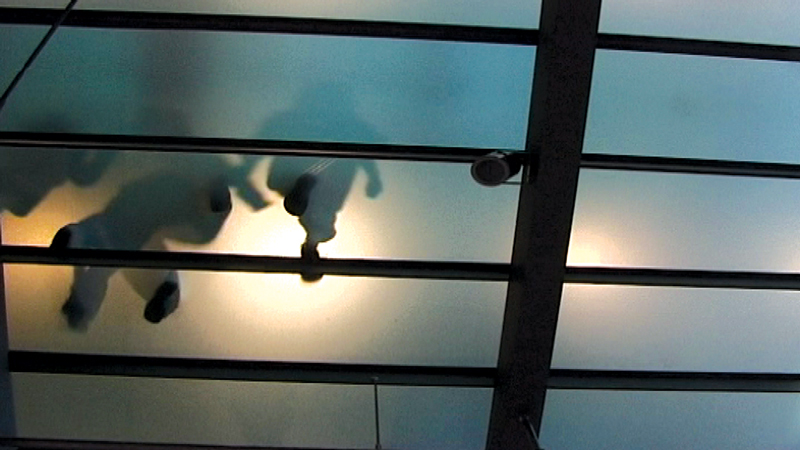 Maria Vedder, Schwelle/Threshold, 2010





Mario Asef, Golden Nose, Mixed Media, 2009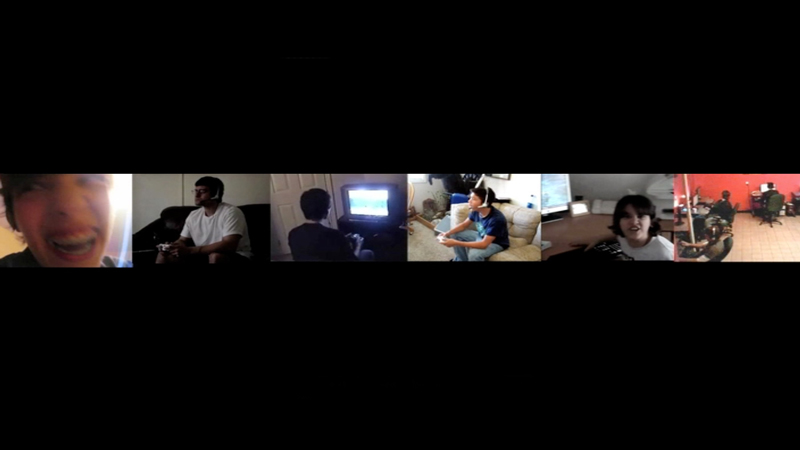 Nia Burks, Angry Gamers, Video, 2011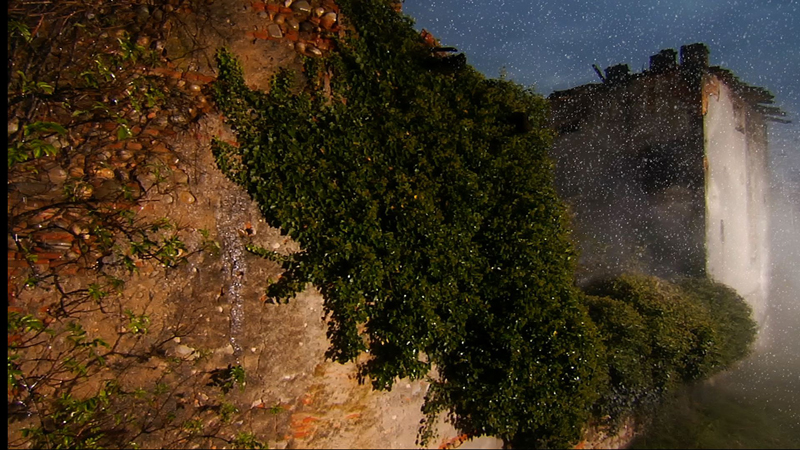 Flatform, Movimenti de un Tempo Imposibile, Video, 2012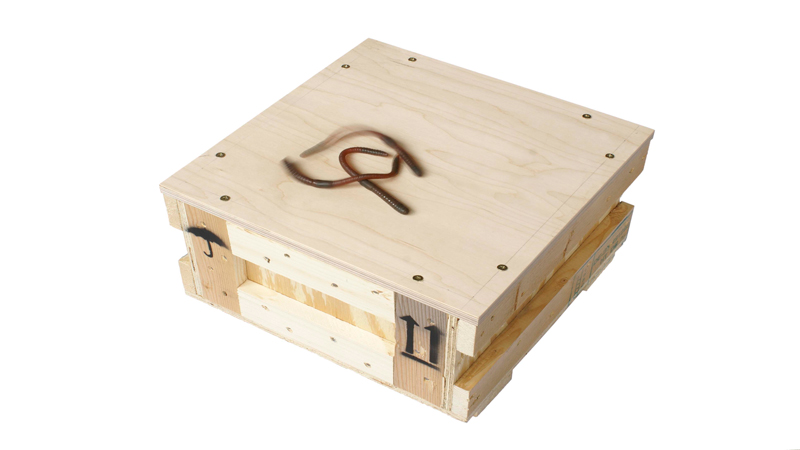 Tom Schmelzer, but I am a worm, Mixed Media, 2011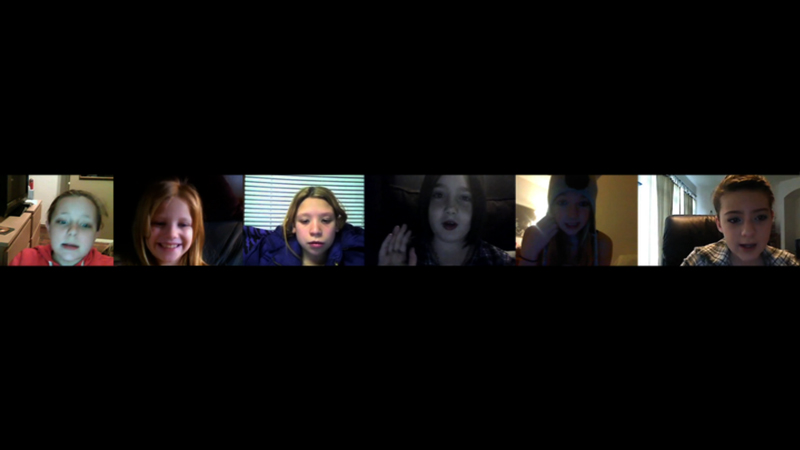 Nia Burks, Pretty or Ugly, Video, 2012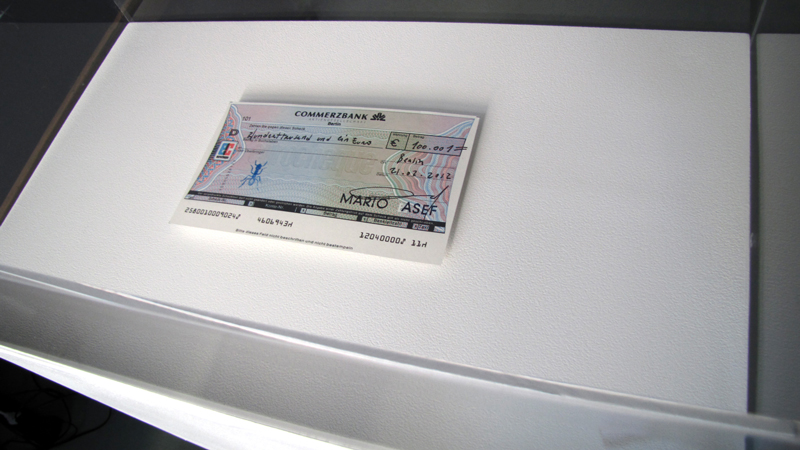 Mario Asef, Palindrom, Cheque, Stamp, 2012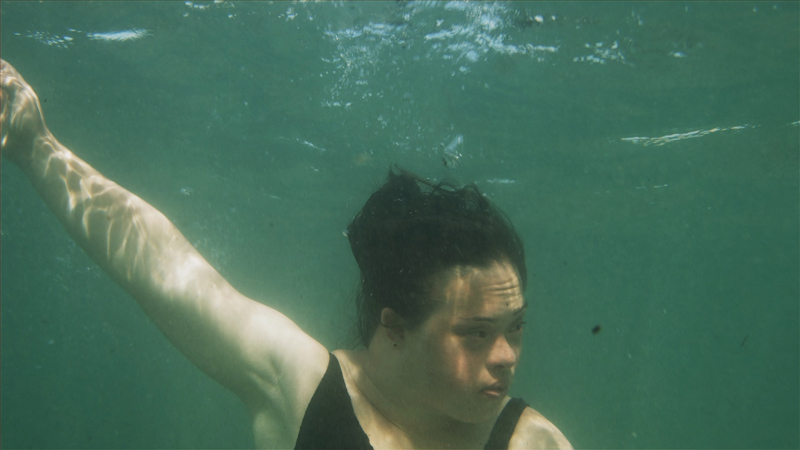 Sergio Cruz, Hannah, 2011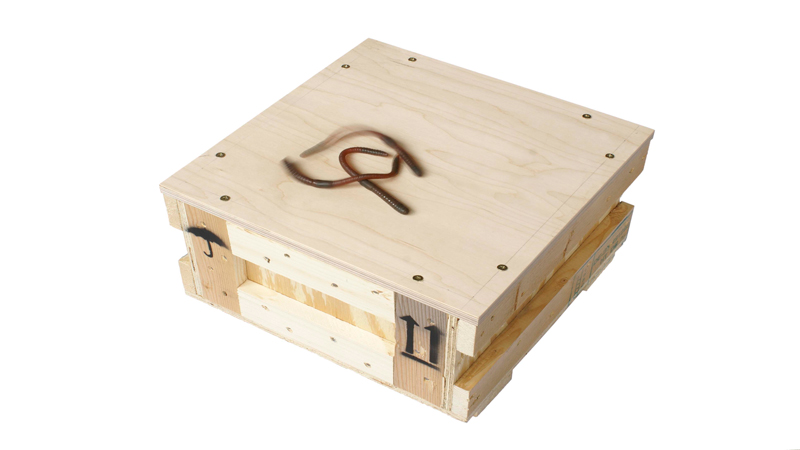 Tom Schmelzer, but I am a worm, Mixed Media, 2011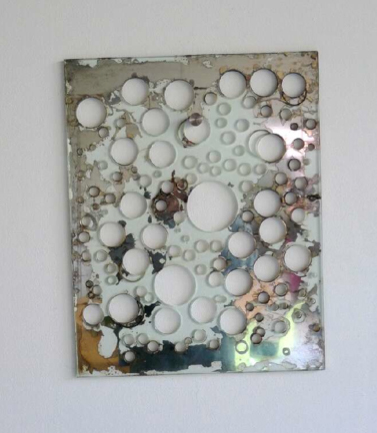 Eberhard Bosslet, Tumult B, Painting, 2012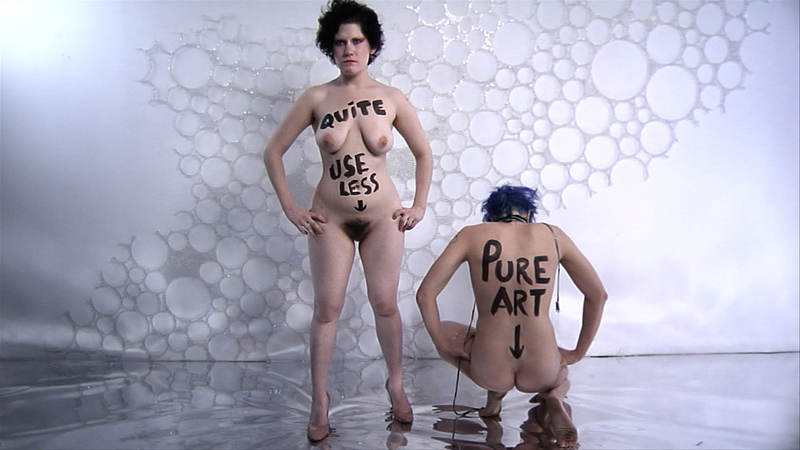 Michelle Handelman, Dorian - A Cinematic Perfume, Excerpt of the 60min Video, 2009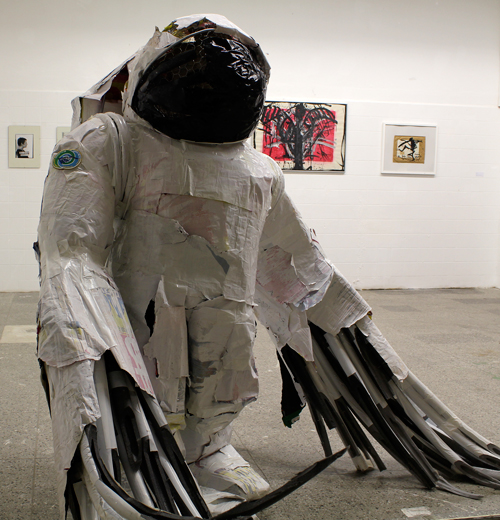 Silvia Lorenz, Ikarus, Sculpture, 2011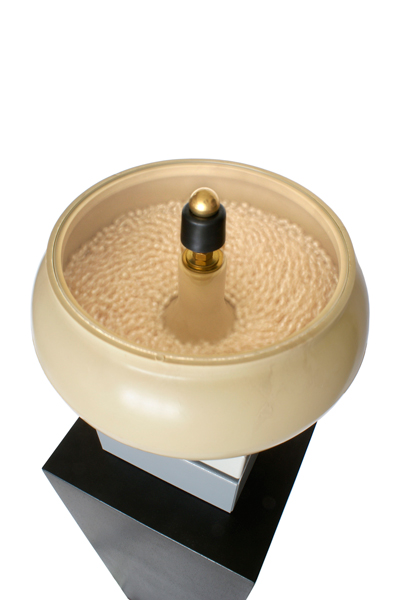 Tom Schmelzer, la danse – or Controlled Flight into terrain (CFIT), Installation, 2010
Reflective Interventions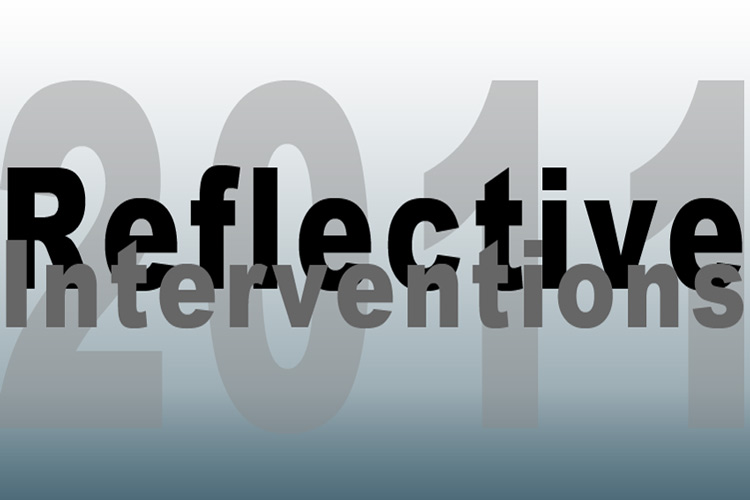 The series Reflective Interventions is a group exhibition curated by Art Claims Impulse, which presents art pieces that reflect contemporary discourse, which use interventions and interaction to open new perspectives for the audience. Art Claims Impulse is a satellite partner of transmediale for the second time with this exhibition series.
Reflective Interventions 2011 addresses the issues related to navigating and finding orientation within shifting and overlapping virtual and material environments. The expansion of virtual space, the ever more diverse possibilities of shaping it used by an ever larger number of people, and the cross-connections to the material space are sources of inspiration and impulse for many exciting changes that affect every area of society and human interaction. The new orientation that journalism currently experiences, the new definition of interaction between different existing and newly emerging actors, the increasingly interesting debates related to value and user rights that can lead to a potential new world order, are only a few examples. The exhibition shows a selection of artwork that reflects these developments in a particularly inspiring manner.
Marc Lee's work 'TV-BOT 2.0' shows in an impressive and exaggerated manner the flood of multimedia and multi-channel information hitting the viewer at any given time. With this work, the artist takes part in the complex discussion about the role and definition of journalism, the excessive desire for real time or constantly updated information, and comments implicitly on the desire for filtering content and information in a shifting media landscape.
Francis Gomila's interactive work 'The Last of England' also deals with an excessive visual stimulation but sets a trap for the audience that has originally been developed with the help of eye tracking software. The reaction to the visual triggers lead the viewer to a point of no return as he is drawn ever deeper into a world of images while the trap is closing in slowly as the images gradually begin to disintegrate from within.
The interactive installation ' Topshot Helmet' by Julius von Bismarck also deals with the increasing trend for self-observation and self-reflection in a game-like futuristic manner, at the same time pointing subtly to the traps that come with the limiting bird's eye perspective that allows only a glimpse of the subject and his/her immediate surroundings.
Similarly, the art work of Mader|Stublic|Wiermann 'Expanded Space' deals with the issue of perspectives and adds a new dimension to it by linking the contemporary debate around energy production with interactive wind-steered technology and mobile units in a way that opens and alters the space and the architecture contained within it in a complex and visually stimulating manner.
The idea of finding orientation in a changing space as well as the effects that can take place at the smallest movement of elements and actors in the space is also a theme that Javier Chozas work 'Metropolis' picks up. He offers both an intriguing image for it as well as a memorable tactile experience for the audience prepared to enter and interact with the installation.
Orientation and the unpredictability of the consequences of individual actions in a particular space also informs the sound art piece of Kirsten Reese and Pepe Jürgens Int-AV which on the one hand animates the viewer to use his creativity and play with sound bites while on the other hand allows the objects representing the sounds to develop a life of their own. This leads to the creation of idiosyncratic sound arrangements while engaging in the debate around the complexity of this type of interaction.
The work of Matthias Fitz 'Streichlicht' also leaves a surprising audio-visual impression on the viewer who is invited to send out an impulse and witness its development, culminating in moments in which unfathomable and fascinating things happen – a work that offers a poetic interpretation for complex contemporary discussions around transparency and change.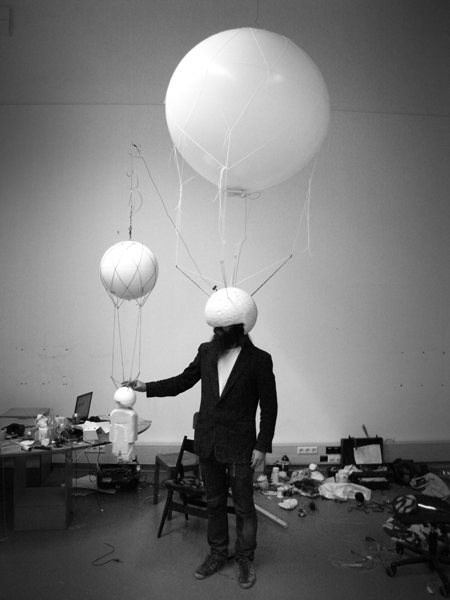 Top Shot Helmet, Julius von Bismarck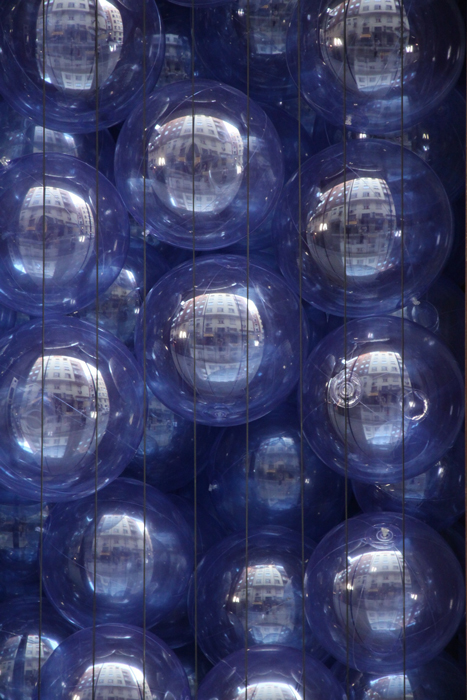 'Metropolis', Javier Chozas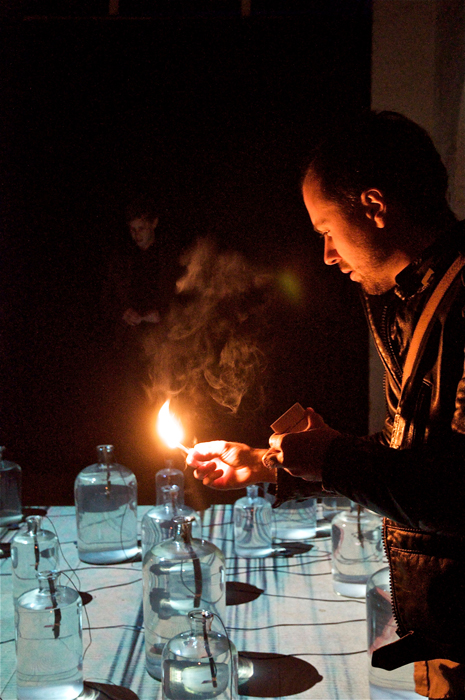 Streichlicht, Matthias Fitz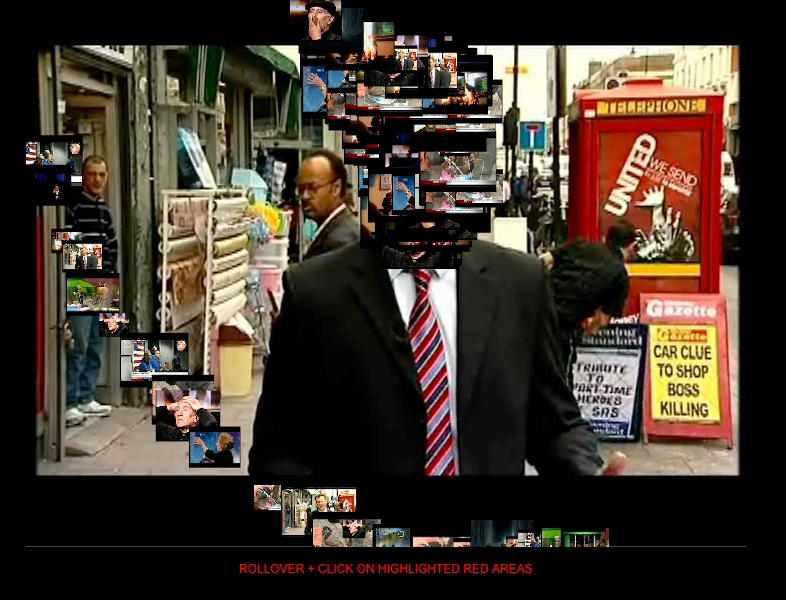 The last of England, Francis Gomila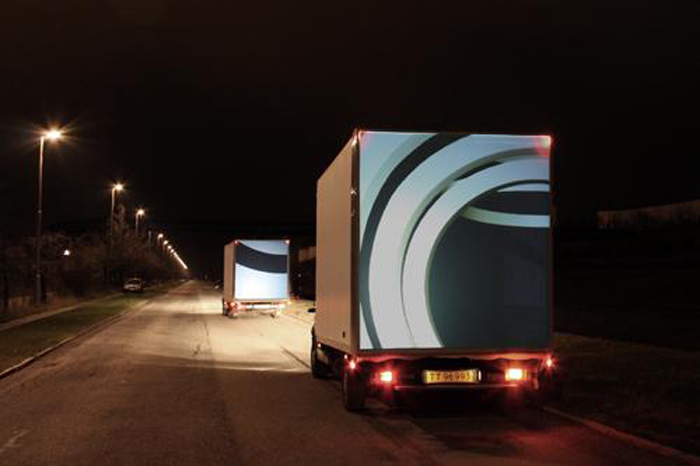 'Expanded Space', Mader|Stublic|Wiermann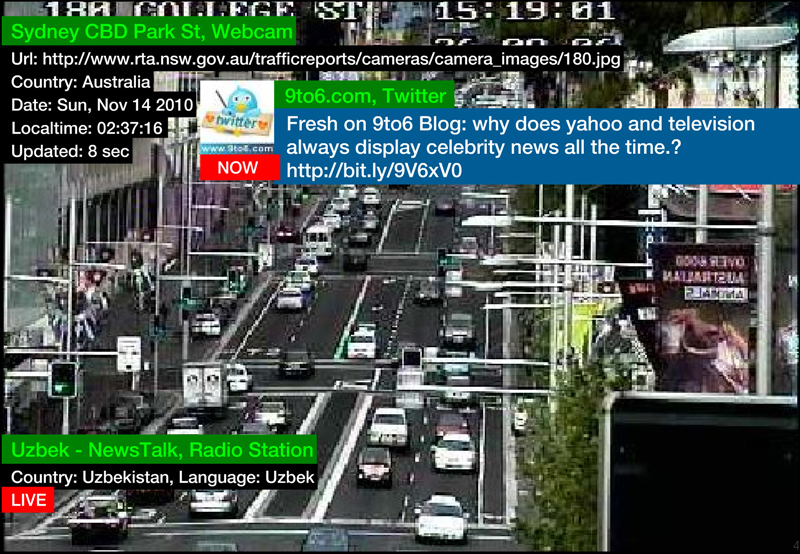 'TV-BOT 2.0', Marc Lee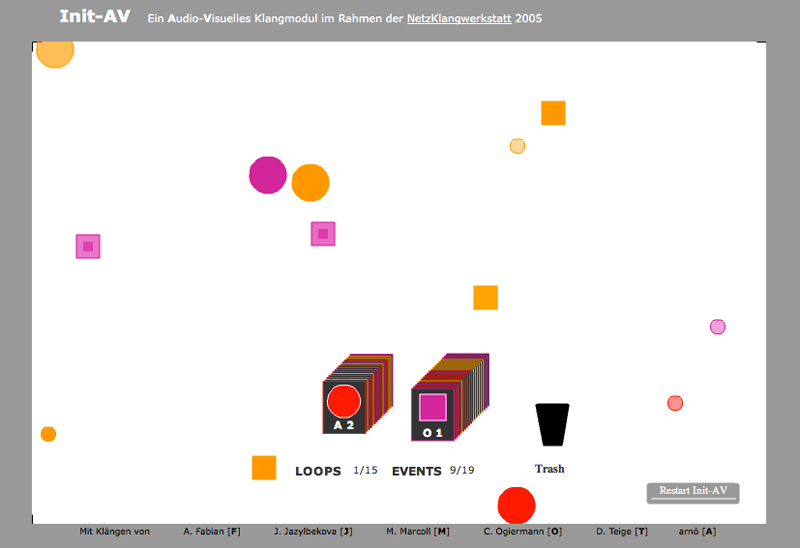 Int-AV, Kirsten Reese and Pepe Jürgens


Reflective Interventions 2010


In their multi-media installations, artists use excerpts of digital communication, media or creative contents and discourses, re-align them, reflect and reposition them into different virtual and real media, and create new connections and narrations by way of self-programmed software or performative interventions. The result is on the one hand a critical engagement with the use of time-based communication structures, with the images and contents produced this way and their influence on society. On the other hand, they also show the fascination inherent in the multi-layerdness and complexity of time-based media, the freedom they allow viewers to enjoy the contents in different form and reflection, to enjoy the live created interweavings and connections, to even participate in the creation process itself. The interplay between the tones, the sound compositions and the interventions of the viewers creates an additional level on which the artworks communicate with each other, which in turn leads to the creation of new contexts.


Julius von Bismarck: "Image Fulgurator"

Cécile Colle & Ralf Nuhn: "Digital Communication"

Julius von Bismarck & Benjamin Maus: "Perpetual Storytelling Apparatus"

Tudor Bratu: "Conversation Piece"

Benjamin Maus & Andreas Nicolas Fischer: "Reflection"


Stadt am Rande
The exhibition 'Stadt am Rande' at Today Art Museum Beijing, was based on a selection of artworks predominantly by Berlin-based artists that explore the various aspects, fabrics, and subtext of an urban topology constantly in flux, harboring indiviuals, networks, and structures struggling for identiy, definition, visualisation and attention.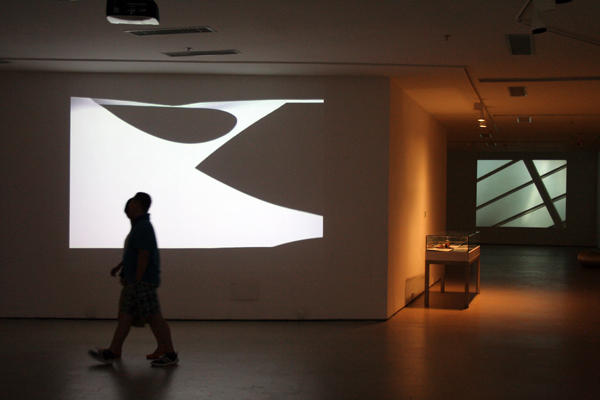 Video Documentation


Organisation: Goethe-Institut China, Today Art Museum
Cooperation: transmediale, Gallery Art Claims Impulse
Sponsors: Hainan Airlines, SAMSUNG
Curators: Pierre Wolter, Melanie Zagrean
Project Management: Gao Yi (Goethe Institut Beijing)
Special Guest: Stephen Kovats (Artistic Director, transmediale)

Special Thanks to: The artists, Gallery Anita Beckers, Gallery Carlier & Gebaur, Gallery DAM,
Gallery Olaf Stüber.

Links: transmediale, Goethe-Institut Peking, Today Art Museum, Chinese Embassy Berlin

Artists:
Marc Aschenbrenner, Dave Ball, Julius von Bismarck, Boredomresearch, Tudor Bratu, Miles Chalcraft, Matthias Fitz, Adam Somlai-Fischer & Bengt Sjölen, Andreas Nicolas Fischer & Benjamin Maus, Niklas Goldbach, Martin Howes, Marcellvs L, Mader- Stublic - Wiermann, Julian Oliver, Michelle Teran, Maria Vedder.


The exhibition 'Stadt am Rande' is based on a selection of artworks predominantly by Berlin-based artists that explore the various aspects, fabrics, and subtext of an urban topology constantly in flux, harboring indiviuals, networks, and structures struggling for identiy, definition, visualisation and attention.
By way of digital devices, engineering tools and software, as well as by using analogue means of creating minor ruptures or alterations in the topological surface the artists question, re-interpret, expand, visualise and explore the urban topology that sourrounds them. The artworks are particularly unusual in that they also manage to capture a shift in the current Zeitgeist, an elusive feel that the urban environment evokes, reactions to it, as well as the way those reactions in turn change the urban topology. Distinctive of this perspective is the rhythm and pace of many of the works, the allegories they use, and the way they chose to explore the topology and present it.
While Berlin serves as a metaphore, a backdrop, or a platform in some of the artworks, the typical and obvious characteristics remain a side note, become marginal.
This is expressed in the title 'Stadt am Rande' ('Stadt' as the German for 'city' and 'am Rande' as a phrase and a word play for 'marginal', 'at the rims', or 'as a side note', 'to some extent'). The notion of urban topology is re-defined and expanded, as the perspective shifts to the subtle, the unobtrusive, the hidden, the imagined, the elusive.

In this context, the works of Michelle Teran, Maria Vedder, Niklas Goldbach, and Marc Aschenbrenner look at human traces, at networks, boundaries and thresholds, frequently invisible in the topological structure of an environment. While the work by Michelle Teran, which received the transmediale prize this year, attempts to visualise or 'ground' virtual social networks and content by tracking them down to their physical location in a performance, Maria Vedder explores constructed and imagined boundaries and transitional non-spaces in the environment. Marc Aschenbrenner's and Niklas Goldbach's work visualises an almost apocalyptic landscape with humanoid forms, solitary sculptures or clones, seemingly adjusting to an alienating urban topology.
Human communication and the elusiveness of traces is the focus of Martin Howse's and Tudor Bratu's work. Their work attempts to capture interaction and presence, real or imagined, converting it into an interactive performative experience. Similarly Bengt Sjolén, Adam Somlai Fischer and Matthias Fitz take up the idea of communication but shift the perspective to visualising the invisible fabric digital communication is based upon. The work of boredomresearch also joins the virtual and the material in an installation and proposes an unusual kind of slow communication.
The works of Mader-Stublic-Wiermann, Julius von Bismarck, Marcellvs L., Julian Oliver, Miles Chalcraft, and Dave Ball explore the physical environment, at times in a humorous manner, expanding the structures, inverting them, breaking them, playing with perception, causing minor ruptures to disturb preconceived perspectives, revealing different facets, challenging the mind and the eye.


Press:
China Daily (english), CRIENGLISH.com (english), Artspy (cn), 798art.com (cn), Artnews.cn (cn), Artron.net (english)
Douban.com (cn), Chinaluxus (cn), ItDream.com (cn), Yahoo.cn (cn), Lilewei.com (cn)