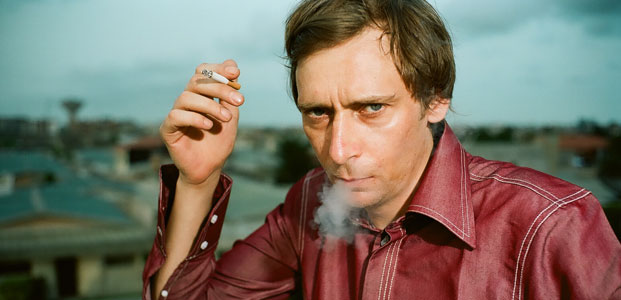 Marc Aschenbrenner, born in Linz (Austria) in 1971, studied painting and multimedia at the local art college with a focus on painting
Video art. His work has included works in Berlin, Bonn, Hamburg, Heidelberg, Innsbruck, Cologne, Copenhagen, London, Lucerne, Münster, Poznan and
To see Vienna. The artist lives and works in Berlin.

His process-based works often start with sketches and use heterogeneous material that does not shy away from unusual cases. Mostly as his own protagonist, Aschenbrenner acts in timeless, meaningless spaces in which he creates an unmistakable aesthetic and uses performance to create his individual cosmos, which allows questions of origin and task in the sense of existentialism in terms of content.

Heilung

#1, #2, #3, #4
The large formats shown here were created for the exhibition "World, Good Night.". They are another artistic exploration of Marc Aschenbrenner embedded
in the series "Healing", 2020. (Art print - Photo, 195cm X130cm). Edition: 5+2AP Material of the costume: mouth nose face masks, disposable, red rod.
Figur im Wald, 2012 HD 5+2a.p
In the depiction, man becomes a figure.

It is the interpretation of man and his perception of the environment. The figures resist reality and create their environment according to the situation.

They live in a state of absolute presence. They live in a state of stagnation. They become the picture.

The figures become clothes and get a subjective individuality.

The environment that is often themed as dwelling is the deepest individualistic expression of the figure.

The home as the strongest personal expression of man as an individual.

A place of the perfect ego.

Man perishes without people.

It is an absurd thing. Man as egoist in the collective.

The central theme is the human figure in the room.

Man and his being, his surroundings and his habitation.

The figure and the elements - the knowledge to be part of the structure.

The rejection of one's own society. States of consciousness and

and their change morphologically. Birth, existence, death.

The films / actions have a kind of action that can also be metamorphosis, absurdity or nothing.

The works are processual and in the true sense, have no beginning or end.



Rot Weiß, 2011
HD, 10:30, ed. of 5+2a.p.




im Abri, 2008
DV 8:30 min, ed. of 5 (+2a.p.)

 
ICV


1971 born in Linz, grew up in Tyrol (Born in Linz Austria)
1991-94 study of painting, Kunstuni Linz (Fine Art Study Universtiy Linz)
1994-99 studies Audiovisual Design with focus on video,
                 Art University Linz. (Media Art Study, Art University Linz.
2009 working scholarship Stiftung Kulturfonds, Bonn
                 lives and works since 2000 in Berlin
           
Exhibitions (S: solo, G: group, P: performance)
2020

     Welt, gute Nacht at Art Claims Impulse, Group exhibition with Shir Handelsman.
 

2014

     Ginterdorfer / Klaßen Projects (G)

2013
    Super 8 - MAM - Modern Art Museum Rio de Janeiro, Rio de Janeiro, RJ (G)
    Figure in the forest - at Art Claims Impulse (S)

2012
     `Imago` Theater Bremen (P)
     `hard Physik` Sophiensaale, Berlin, FFT, Dusseldorf (P)
     `Short + Short` Month of Performance, Berlin (P)
     `6 ants` Gallery STORE, Dresden (S)


2011
    `Alive she cried`Galerie Zink, Berlin (G)
    `Berlin del Mare`, Berlin (P)
    `Kopffüssler`, art spring Bemen (P)
    `Rohrmensch` New Black, Danube Festival Krems (P)


2010
   `City on the Edge`Today Art Museum Beijing, Beijing (G)
   `500 meters` Performance IC, Innsbruck (P)
   `Abroller`Rue Princesse, House of World Cultures, Berlin +
    Kampnagel, Hamburg (P)
   `Fatigue`Abidjan, Ivory Coast (P)

2009
    `Pictures of the artist` Frankfurter Kunstverein (G)
     Solo presentation Vienna Fair, Gallery Olaf Stüber (S)
    `Form of Isolation` Gallery Olaf Stüber, Berlin (with Michael Höpfner)
     Solo presentation Art Brussels, Galerie Olaf Stüber (S)
    `Comunidad Ficiticia`Matucana 100, Santiago Chile (G)
    `Silbermann`Kunstverein Hamburg (P)

2008
    'VIDEO PERFORMANCE - Methods of self-reflection'
    Exhibition Hall Contemporary Art Münster (G)
    Mediations Biennal, Poznan, PL (G)
    'Video of month # 40: My favorite pastime' Kunsthalle Wien, AT (G)
    'checkpoint berlin' Villa du Parc-Center d'art contemporain, Annemasse, CH (G)
    'It Happens To Be This' Artists' Houses Worpswede (G)
    'Every moment is a state' Galerie Olaf Stüber Berlin (S, P)

2007
    'me, he and the others' with Knut Klaßen, Videonale at Kunstmuseum Bonn (S)
    'We learn hard' Forum Free Theater, Düsseldorf (P)
    'Fresh Trips' Kunstraum Innsbruck, AT (G, P)
    'Man seeks, God gives' Theater Aachen (P)
    'Reality Bytes: Digitized Narrative' The Dallas Center For Contemporary Art, Dallas US (G)
    '100 DAYS = 100 VIDEOS' GL Strand, Copenhagen, DK (G)
    'OPEN SPACE 2007' Art Cologne, Colgne (S)

2006
   '100Days = 100Videos' Kunstverein Heidelberg (G)
   , Drawing cycle 'Emergency Room by Geoffroy Colonel, Galerie Olaf Stüber (G)
   'Gold Room Performance' Ballhaus Ost, Berlin (P)
 'Beetle hindquarters' Black Forest Institute, Ballhaus Ost, Berlin (P) Galerie Olaf Stüber, Berlin (S)
   'Second sun' Loop Video Art Fair, Barcelona (G)
   'Cyan's death' too much TV, Berlin (S)
   , In the Green 'EAMF European Media Art Festival, Osnabrück (G)
   , Draisine 'Aschenbrenner, Classes, Too much TV, Berlin (S)



2005, in the Green 'too muchTV, Berlin (S), Gulli' Gallery Volker Diehl, Berlin (S), second Sun 'too manyTV, Berlin (S)
2004 'Nori Gold' in 'Kluterkammer' by John Bock, ICA London (G), Nori Gold 'zuvielTV, Berlin (S)
2003, beginning, assembly line + death - 4xAschenbrenner 'Dengel Galerie Reutte (S)
2002 international video festival, Bochum
2001 2yk Gallery Berlin
1999, KIB 'old town hall, Linz
1995 'Der Schwimmer' Tronic-Artcore-Event / Ars Electronica, Linz (AT)
1994, Mokom 'Videoperformance, Aschenbrenner with Silvia Keller, Dengel Gallery, Reutte (AT)

projects

2009 to today:
             Playing in the band `Road Damage'Experimental Guitar,
             Tour2012: Berlin, Hamburg, Leibzig, Jenar, Bremen, Bresslau, Prague, Vienna
2006, Chinese Synthesis Leberkäse'with Gelitin, Kunshaus Bregenz
2005, Studio second Sun 'Schwarzwaldinstitut, Buhlbach
2004, request 'Aschenbrenner / Jochen Dehn / Knut Klaßen / Gelitin, Atelier Bucher, Ehrwald (AT)
2002 collaboration work 'Gribhom2' with John Bock, Documenta 11
2001, Power + Fruits' Aschenbrenner with Anselm Reyle
2000, Observatory 'Project Workshop OK Center for Contemporary Art, Linz
1996, Datacut ',' Rivers and Bridges' Kunstradio / ORF, Silvia Keller, Mark + Thomas. Aschenbrenner, Reutte (AT)
1995, 3 Video Signations' Art Pieces / ORF (AT)
1995, Ark 10061 'Danube ship project, Vasicek, Keller, Kahler, M + T.Aschenbrenner, Linz, Vienna, Bratislava