Shir Handelsman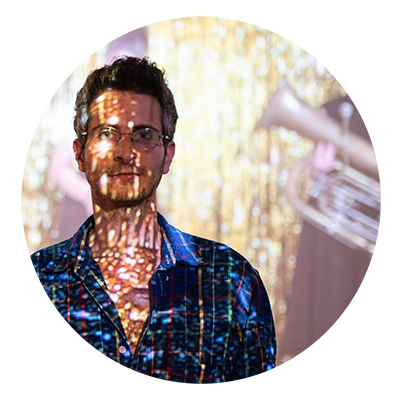 Shir Handelsman – Artist Statement
I am a multidisciplinary artist, with a strong background in music, playing, composing, and teaching. My studio work involves video art, film, sculpture, drawing, installation and photography. In all music takes a significant part. In my practice, I research the connections between sound and visual image and explore the mechanics and dynamics of interpersonal intimacy. I try to challenge the presence of sound in all the mediums I use, interfere and manipulate images, show broken apparatuses, out of order sound devices, and create absurd situations as a base of my works. I examine human patterns and narratives, through the ongoing search of complex encounters between human subjects and sounds.
As a part of my view of sound, rhythm and music as visual materials, and as a former professional saxophone player, I am always drawn to collaborate with sound designers, music producers, singers and musicians. I am intrigued by the possibility of using sound as a tool, through which I can reveal humorous, surrealistic, contradictive, grotesque perspectives and new aspects and expressions of the narratives in my works. Seemingly trivial and everyday stories, life experiences, personal traumas, historical myths and cultures become grandiose, timed, orchestrated, and musically performed in my works.
Observing the mechanisms of sound production, focusing on the act of singing, and my interest in musical instruments as objects of investigation in my work, are all embodiments of my constant attraction to the world of stage and performance, which I knew very well in my early life. Through the practices of documenting, directing and placing daily situations in artificial positions, I aim to recreate and re-experience this world, which belongs to my history and identity, within my artistic present.
Recitative
 2018, 4'59'' Full Hd
Recitative is a short experimental film, a surreal fragment of an unconventional performance. It shows a playful dialogue between an elderly opera singer and industrial lifting platforms, which creates a counterpoint between the human voice and mechanical sounds of machinery moving up and down. The opera singer performs a movement from one of J.S Bach's cantatas, which express a Martyr's wish for redemption and a desire to become one with god. His "death wish" and the presence of these specific machines could evoke the death of construction workers in cities, which increases every year. In Israel, these workers, who use the platforms and often fall to their deaths, are in most cases second-class citizens of low socio-economic status, foreigners and immigrants citizens who often die because of bad employment conditions.
 Stress Fractures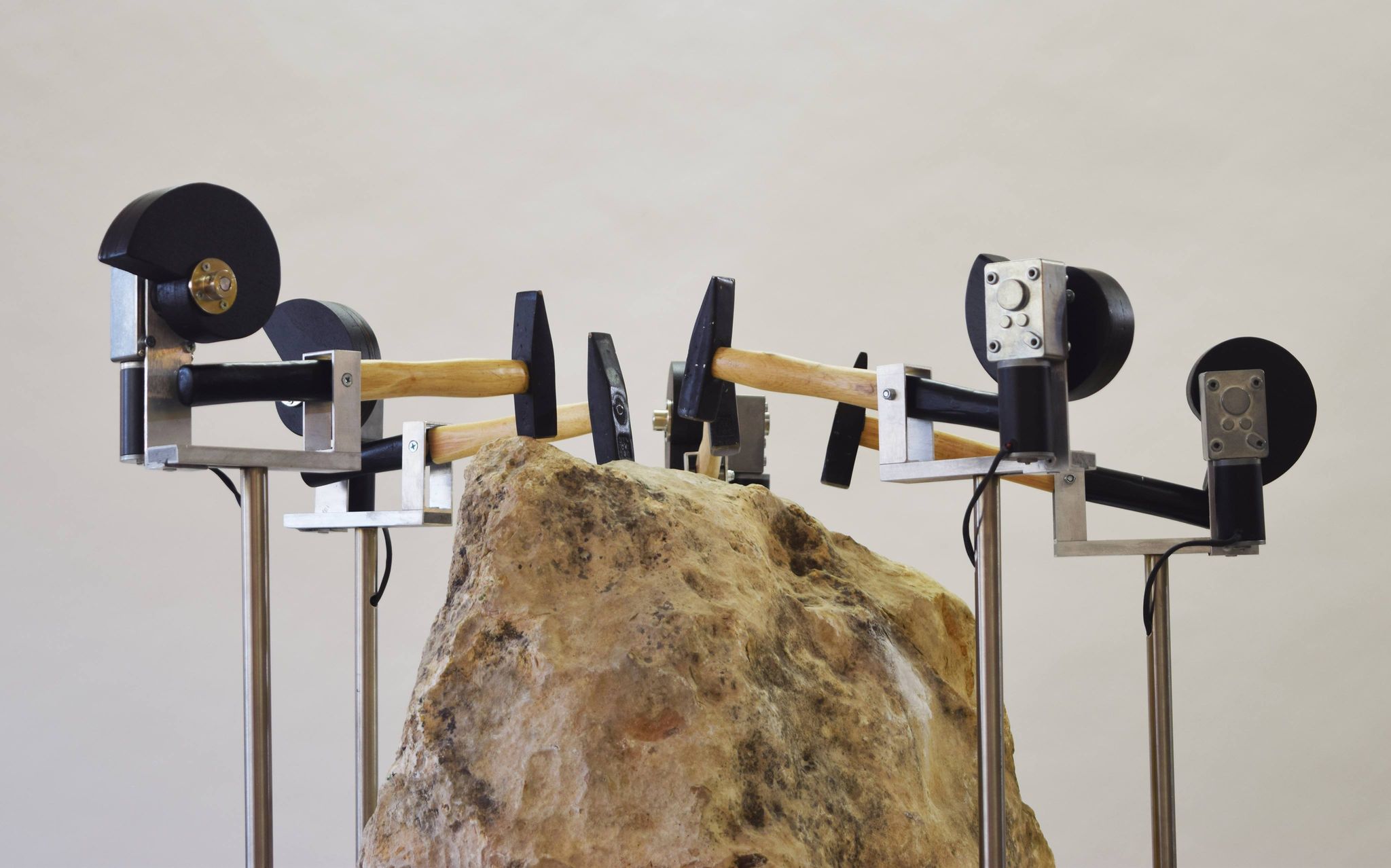 Stress Fractures - Courtesy of the artists.


Movable sculpture consisting of five hammers hammering on a limestone weighing about two hundred kilograms. The frequency of the hammers is determined by random. Diameter 100cm, height approx. 150 cm.
Fine Art Prints / Drawings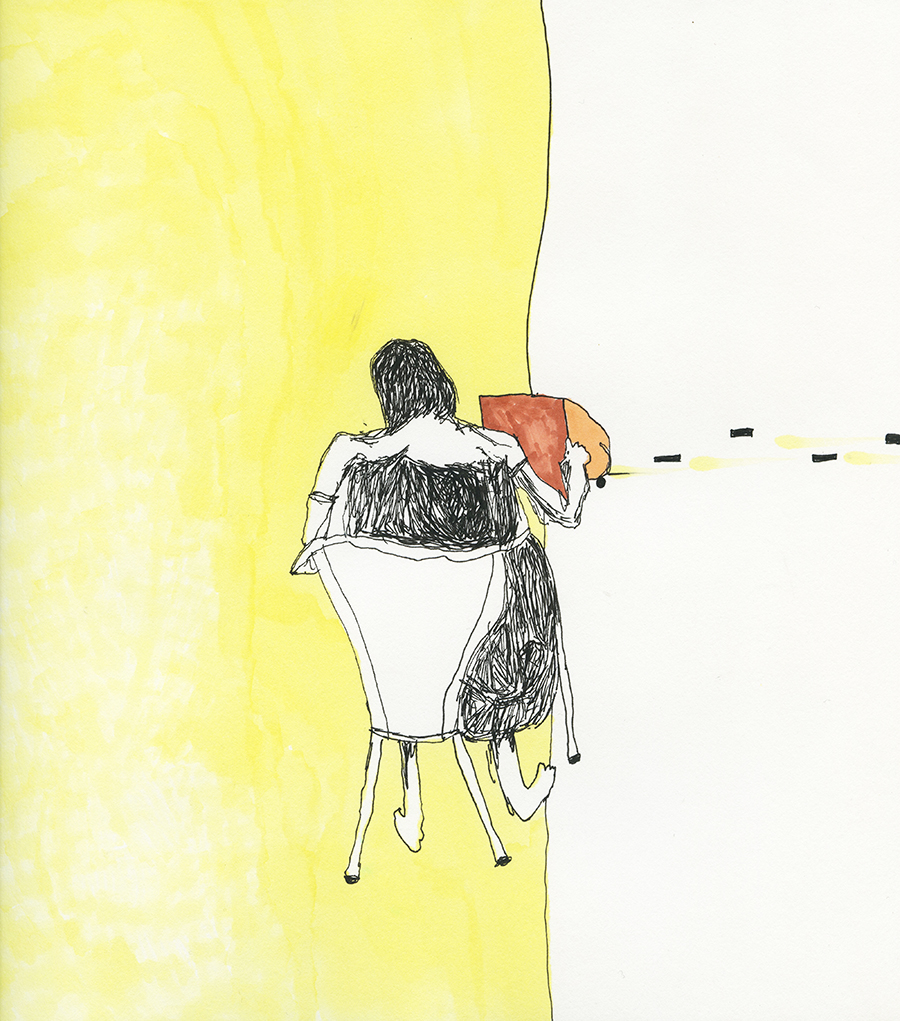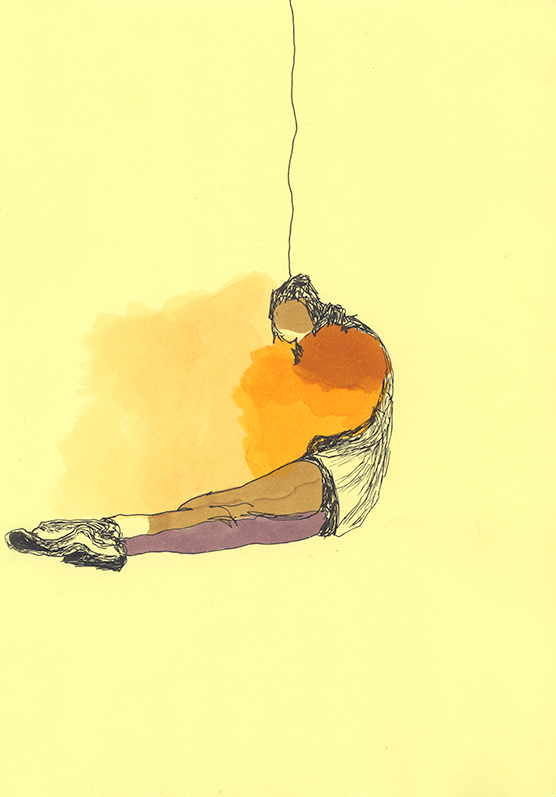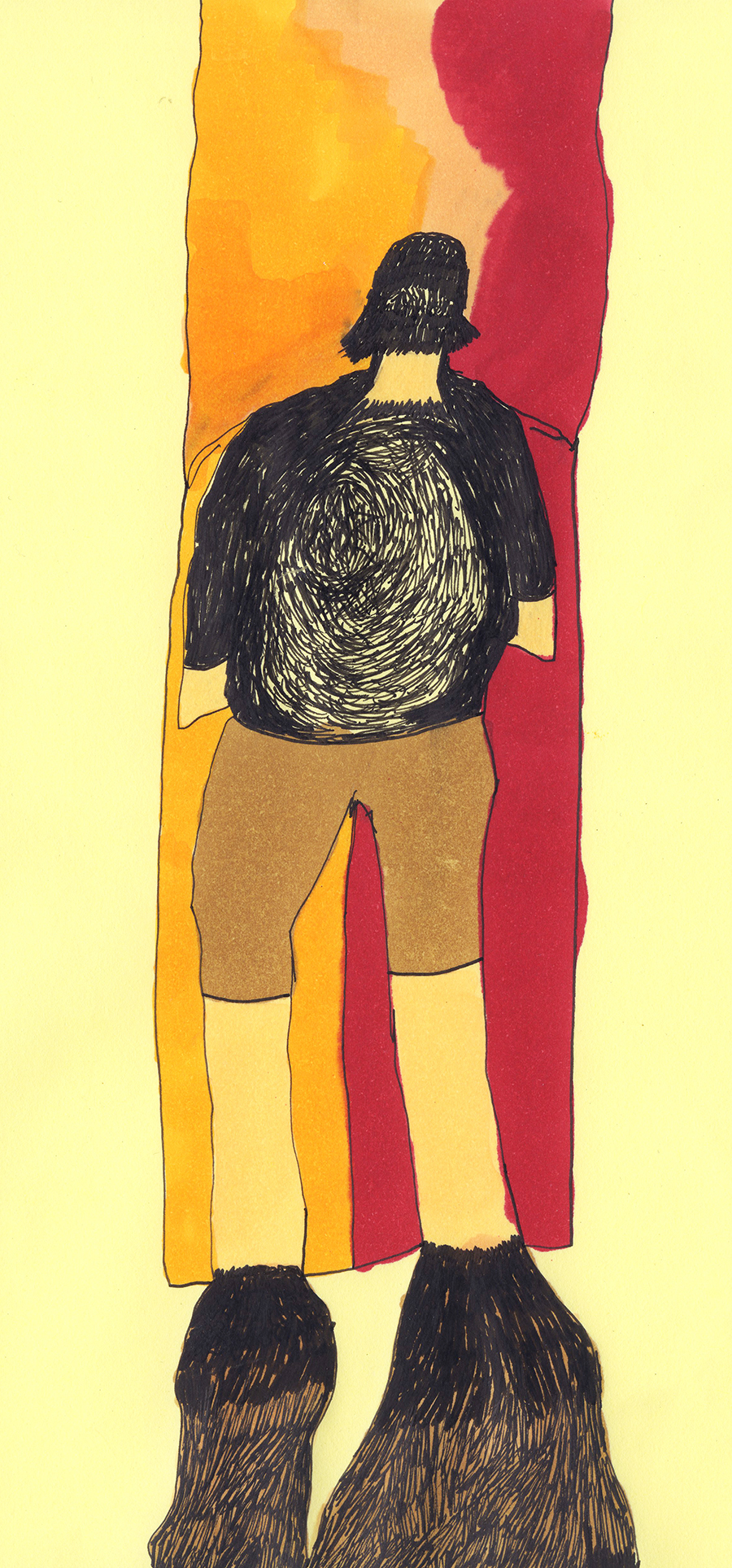 More Artwork in the ACI-Shop
If you are interested in the original Artwork
Shir Handelsman is a multidisciplinary artist, born in 1989. He lives and works in Tel Aviv and graduated his BFA studies at the Department of Multidisciplinary Art of Shenkar College in 2018. Shir began his professional career as a musician, a saxophone player, and performer. He participated in various ensembles and jazz orchestras and composed music for theater productions. After completing his military service as an Excelling Musician (2010), Shir began his BA studies in
literature and philosophy at Tel Aviv University, which he graduated with honors (2013).
Shir is a recipient of Excellence Grant from the America-Israel Cultural Foundation (2018), an Award Winner for Best Experimental Film of Budapest Independent Film Festival, Hungary (2020) and a Grand Prix Winner of the 27th Slavonian Biennial, Museum of Fine Arts, Osijek, Croatia (2020). His works have been exhibited in Kunsthal Charlottenborg gallery (DK), Arsenale of Venice (IT), Aesthetica Short Film Festival (UK), Jerusalem Film Festival (IL), Video Art & Experimental Film Festival (US), The Nikola Tesla Technical Museum (HR), Bolton Museum Gallery (UK), Cello Factory Gallery (UK), The Steinhardt Museum of Natural History (IL) and more.
1989 Born in Israel, lives and works in Tel Aviv
Education
2018 – 2014 BFA, The Department of Multidisciplinary Arts, Shenkar College of Engineering, Design and Art, Ramat Gan,
Israel
2017 École Nationale Supérieure des Arts Décoratifs, Student Exchange Program, Paris, France
2013 – 2010 B.A in Literature and Philosophy (Graduated with honors), Tel Aviv University, Tel Aviv, Israel
Solo / Duo Exhibitions
2021 Three Mountains, Jerusalem Artists House, Israel
World, good night, with Marc Aschenbrenner, Art-Claims-Impulse Gallery, Berlin, Germany
Group Exhibitions
2021 Streetlight, Roman Susan Gallery, Chicago, USA
2020 The Crown Cinema, Hansen House, Jerusalem, Israel
La Totale, Studio Orta - Les Moulins, France
Power Play 2020: Invisible lines, The Arts House at The Old Parliament, Singapore
Liminal Pavilion, Bangkok Biennial, Thailand
27th Slavonian Biennial, Museum of Fine Arts Osijek, Croatia
International Video Art Festival Now&After, Contemporary Art Center Winzavod, Moscow, Russia
The Muse Residency 2021, The Muse Gallery, London, UK
The Biennial of Arts and Design, Eretz Israel Museum, Tel Aviv, Israel
ATLAS of Particles - Are you predictable?, Art Pavilion Cvijeta Zuzorić, Belgrade, Serbia
SWITCHED ON, Kunsthalle am Hamburger Platz, Berlin, Germany
14th Arte Laguna Prize, Arsenale of Venice, Italy
Malamegi Lab 14, Imagoars, Venice, Italy
Art Nova 100, Guardian Art Center, Beijing, China
2019 International Photography Festival, PHOTO IS:RAEL, Tel Aviv, Israel
OPEN SSA+VAS, Royal Scottish Academy, Edinburgh, Scotland
Zumu: Museum on the move, Kiryat Yam, Israel
The London Group Open, Cello Factory Gallery, London, UK
Interchange, Alfred Cooperative Institute for Art, Tel Aviv, Israel
Neo:ArtPrize, Bolton Museum Gallery, Bolton, UK
Surface, Sklar Levy Gallery, Modi'in-Maccabim-Re'ut, Israel
Extravagant Bodies: Love ,Hala V, The Nikola Tesla Technical Museum, Zagreb, Croatia
Thessaloniki Queer Arts Festival, Momus Experimental Center for the Arts, Thessaloniki, Greece
Zoom–Young Israeli Artists, The Steinhardt Museum of Natural History, Tel Aviv, Israel
Charlottenborg Forårsudstilling, Kunsthal Charlottenborg Gallery, Copenhagen, Denmark
2018 The Constant Variable / Shelter Time, Abraham Hostel, Tel Aviv, Israel
Beyond Words, ArtspaceTLV, Tel Aviv, Israel
Morendo, Graduate exhibition, Shenkar College of Engineering, Design and Art, Ramat Gan, Israel
2017 Fanzines, École Nationale Supérieure des Arts Décoratifs, Paris, France
2016 Art and Emotion, Shenkar Collegeof Engineering, Design and Art, Ramat Gan, Israel
Screenings
2021 XXIVth International Encounters Traverse, Les Abattoirs Museum of Contemporary Art, Toulouse, France
2020 Lago Film Fest, Italy
Festival du Court Métrage en Plein Air de Grenoble, France
Frame & Frequency VI, VisArts Concourse Gallery, Rockville, Maryland, USA
Amarcort Film Festival, Rimini, Italy
Kyiv International Short Film Festival, Ukraine
Festival International du Film de Nancy, France
Proyector Festival, Madrid, Spain
Hot Steam Video Art Festival, Massachusetts, USA
Fifth Wall Festival, The Philippines
Under the Subway Video Art Night, New York, USA
International Festival Signs of the Night, Paris, France
404 International Festival of Art and Technology, Argentina
Desenzano Film Festival, Italy
Proceso de Error Festival, Chile
Split Videoart Festival, Croatia
Gstaadfilm Festival, Ireland
Working Title Film Festival, Vicenza, Italy
Video Art Miden Festival, Greece
Epos International Art Film Festival, Tel Aviv Museum of Art, Israel
Videokanava: Subordinated Reality, Contemporary Art Center Pispala, Hirvitalo, Finland
Over The Real - International Video Art Festival, Lucca, Italy
Alternative Film/Video Festiva, Belgrade, Serbia
Ibrida Festival of Intermedia Arts, Forlì, Italy
Budapest Independent Film Festival, Budapest, Hungary
2019 Simultan Festival, Corneliu Miklosi Museum, Romania
Istanbul International Experimental Film Festival, Istanbul, Turkey
Video Art & Experimental Film Festival, Tribeca Film Center, New York, USA
Aesthetica Short Film Festival, York, UK
Tabula Rasa Festival, Tel Aviv, Israel
Horn Experimental Film Festival, The Sublet, Jerusalem, Israel
Marienbad Film Festival, Mariánské Lázně, Czech Republic
Jerusalem Film Festival - Video Art and Experimental Cinema Competition, Jerusalem Cinematheque, Israel
The 11th Magmart Video Festival, Casoria Contemporary Art Museum, Naples, Italy
Tel Aviv International Student Film Festival, Tel Aviv Cinematheque, Israel
Eye's Walk Digital Festival, Syros, Greece
The BF Artist Film Festival VIII, SERF, Leeds & SET, London, UK
Awards and Grants
2020 Grand Prix – 27th Slavonian Biennial, Museum of Fine Arts, Osijek, Croatia
Mifal Hapais Council for the Culture and Arts, grant recipient
Best Experimental Film Award Winner, Budapest Independent Film Festival, Hungary
Second Prize Award, International Video Art Festival Now&After, Moscow, Russia
Special Mention Award, Splitvideoart Festival, Croatia
Special Mention Award, International Festival Signs of the Night, Paris, France
Cinema After Film Award Winner, Cinema South International Film Festival, Israel
Festivals and Exhibitions Award Winner, 14th Arte Laguna Prize, Venice, Italy
2019 Artist in residency, Leveld Kunstnartun, Norway
Second Prize Award, Horn Festival - The Experimental Film Competition, Jerusalem, Israel
2018 Excellence Grant Recipient from the America-Israel Cultural Foundation
2017 Pessa and Rebecca Blumenkopf Foundation Scholarship
Military Service
2007 – 2010 Excelling Musician